07 Jun

How to Enable Searching Within Attachments – MailStore Server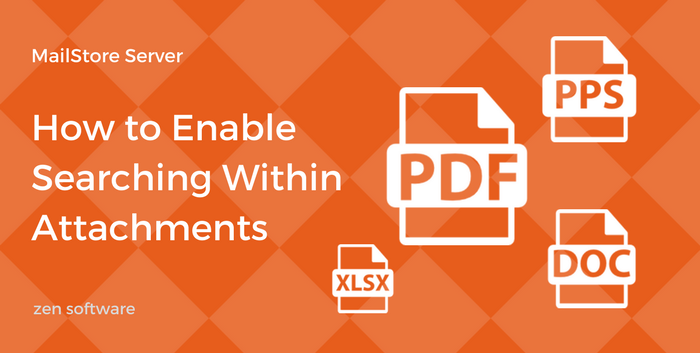 Straight out of the box, when you perform searches of your archived email as a MailStore user, it looks for your keywords in the header, body and subject of your messages. What you may not know, however, is that it also has the ability to search within some attachment types too if you enable the feature.
I've found this to be incredibly helpful when looking back over conversations with customers, helping me find invoice or project references for example, and I'm sure you'll find it useful in your working day too.
Attachment searching is actually enabled by default, but it's limited to only .txt and .HTML file extensions, so you're not using its full potential.
In this short post, I'll show you how to enable the feature and get MailStore to re-index your historic email so it works for that too.
Which attachment types are supported?
Using the defaults, MailStore will search within the following file types:
Text files (TXT)
HTML files (HTM and HTML)
But with the addition of ifilter plugins, you can also search within these among:
Portable Document Format (PDF)

UPDATE: please see note below

Microsoft Office (97-2003), Microsoft Office (2007 and later),
Open Document Format (Libre Office/Open Office)
UPDATE: Take note of the installation instructions of the 64bit PDF IFilter. Especially adding the bin folder of the IFilter installation folder to the PATH system variable increases indexing speed a lot. The PATH system variable can be adjusted as administrator via windows key + R > rundll32 sysdm.cpl,EditEnvironmentVariables
More details on iFilters available at https://help.mailstore.com/en/server/Search_Indexes
Enabling attachment searching
Start MailStore Client and log on as administrator (admin).
Click on Administrative Tools > Storage and then click on Search Indexes.
In the Attachments section click on the 'Change…' button
From the new window select the file type groups from the list or enter a space separated list of file extensions of attachment types you would like to archive in the text field below 'Other File Extensions.'

For any document type that requires an ifilter you don't currently have installed, you should see a link to where you can download that specific filter and instructions on how to install it.
Click on 'OK' to save the settings.
The new settings apply to all emails that are archived from today. To apply the settings to already archived emails, you'll need to tell it to apply the same settings as explained below.
Index historic messages
After adding the new attachment filtering options, to index the historic mail, you'll need to have MailStore rebuild the existing search indexes using the following steps:
Start MailStore Client and log on as administrator (admin).
Click on Administrative Tools > Storage and then on Search Indexes.
Check all search indexes to be rebuilt. Indexes with the status Please Rebuild are already checked for your convenience.
Click on Rebuild Search Indexes.
This process can take some time if you have lots of large indexes so it may be a good idea to leave the process running overnight.
That's all folks!
So that's it for setup steps, I hope you find the feature useful – feel free to drop me a note below with any questions/ comments.