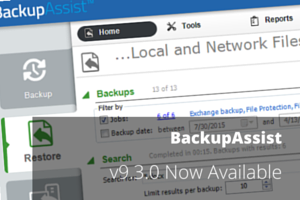 Developer Cortex I.T. have just announced the latest point release of BackupAssist, and it's a version we're highly recommending you upgrade to.
In addition to the usual minor tweaks and improvements, there are two particularly good reasons we recommend you upgrade...
FIX:

An important fix for Exchange backups - this release fixes a recently discovered issue concerning Exchange backups.
NEW:

Great new restore search feature - a brand new feature to make even lighter work of locating your backed up files and folders.