17 Aug

The Great BackupAssist Renewal Sale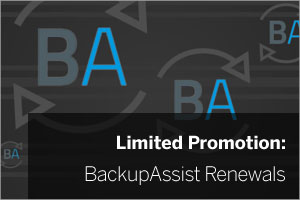 If you, or one of your customers, own a copy of BackupAssist with expired upgrade cover (you can check here), for the next four weeks, we're offering a brilliant opportunity to bring it up to date (which also reinstates the free technical support cover).
Renewing an expired licence would normally be £95.00 + VAT, but up to and including Monday 14th September, it will be available to you at the non-expired rate of £66.00 + VAT.
**Now extended to 30th September 2015**
The reason for this sudden turn of generosity is two-fold…
The next major version (v9.0) is just around the corner and we'd like you using it. Renewing now will cover you for all new releases for a 12 month period.
Reasons to renew BackupAssist
Renewing means you can update to the latest version today complete with all of the latest features and enhancements (see below).
You'll also be entitled to all future releases for 12 months (including version 9.0)
Licences with valid cover can be used with the BackupAssist Multi-Site Manager
Reinstates the free technical support via phone and email (plus remote if required
What's new in recent versions?
The full release notes are pretty lengthy as BackupAssist have a frequently updated roadmap but these are the most significant updates as I see them:-
A brilliant new Exchange backup/ restore module (watch the video)
Completely new and much simplified interfae (take a look)
Bitlocker encryption for server images, files and folders
Incremental imaging to network locations
Server 2012 and Windows 8 support
Promotion terms and conditions
Promotion runs from 17/08/15 to Midnight on 14/09/15

(extended to 30/09/15)

Licences must have expired to be eligible for discount (check your key here)
Reseller discounts will still apply
Not-for-resale discounts will still apply
How to claim
It really couldn't be any simpler – just add your licence to the shopping basket via the upgrade checker page and you'll see the discount applied automatically.
If you've got any questions, don't hesitate to drop us a line via the live chat on our site or you can always get hold of us via the traditional methods.