13 Jul

The BackupAssist MultiSite Manager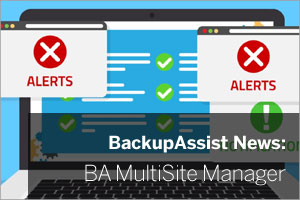 BackupAssist's MultiSite Manager (BAMM) is here, and if you're a registered partner program member, it's completely free for your own use.
If you manage more than a handful of BackupAssist customers, I hope this will be music to your ears, particularly if you're spending more time than you'd like checking the many emailed backup reports coming in from your various client sites every day.
Please note: BAMM is the replacement for BackupAssist's legacy Centralised Monitoring Console (CMC) which is now no longer supported.
I'll explain the key differences between the two in the moment, but if you're a reseller currently using the CMC, we highly recommend you migrate and here's why…
What is the MultiSite Manager?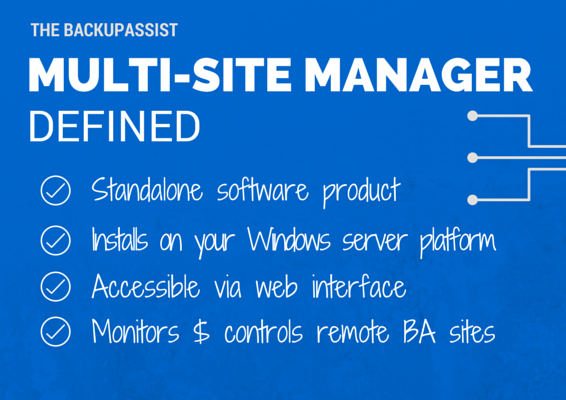 The important thing to note about the MultiSite Manager is that it's a software product and not a hosted service. You are required to provide the Windows hosting platform.
What functionality does it offer me?

One email is all you need.
The most popular feature among the resellers we have using the MultiSite Manager at the moment, is the consolidated email reporting.
The individual email reports sent by BackupAssist are great, providing just the right amount of detail for small businesses, but by the time you've built up ten or more sites, it can become a job in itself to check those individually every day.
With BAMM you can log in, check the web console at-a-glance or simply configure a daily report email that will summarise the information from across your various customers sites, making it simple to spot potential issues.
Other features of interest include:
Remote management for backup and restore jobs

Add, edit and remove sites
Create and edit backup jobs
Run, disable and pause backup jobs
Restore your data and applications on any site
View detailed reports on all backup jobs

Fully configurable – only view the data important to you
Configure single reports or a consolidated version for all sites
Send to specific recipients using a managed list
Opt-in for BackupAssist licence expiration notifications
Receive timely alerts to help avoid any issues

View alerts for all backup jobs, for both individual sites and entire networks.
Click-through error notifications linked to specific job reports
How does it compare to the legacy 'Centralised Monitoring Console'
The Centralised Monitoring Console was a cloud-based service where data was held on Cortex's servers. It performed monitoring only.
BAMM is a software solution where data is stored on a machine you control and that can be at any location. It will monitor and manage.
Feature comparison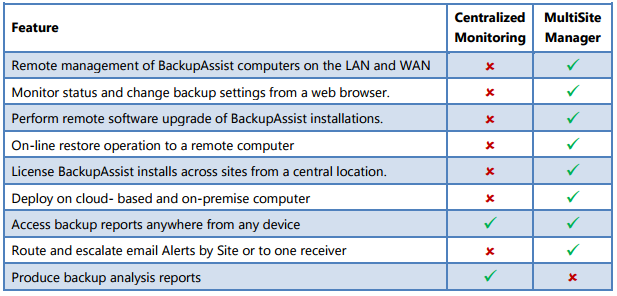 Watch our recorded webinar
Fancy more of a guided tour before going any further?
Our resident BackupAssist guru (and YouTube star in the making) Neil Perry recorded one of his live webinar sessions and it's a great place to start taking a closer look.
Please don't forget to subscribe to our channel and 'like' Neil's video if you find it useful!
Where do you advise I host it?

We don't actually have a specific recommendation, the best option in terms of platform will depend on what you have available to you but I can confirm it must be Windows-based so that's going to be either:
A server located at your office if you have high quality connectivity
A co-located/ hosted server in data centre space
Rented hosted server such as Amazon Web Services (AWS) or Microsoft Azure
For testing purposes, we have BAMM installed on an AWS server. That's performing very well indeed and at a reasonable monthly cost so that route might be worth considering.
Operating System
Windows Server 2008 R1/R2 64bit
Windows Server 2012 R1/R2 64bit
Windows 7 32bit/64bit
Windows 8/8.1 64bit
Technical requirements
Server requires globally reachable hostname or IP address
Multi-Site Manager will require SSL Certificates
All BackupAssist computers and Site Controllers need Internet access
More information is available in the MultiSite Manager Set-up Guide.
Next steps

If you'd like to read up some more, you'll find plenty of information, help and installation guides in the MultiSite Manager section of our web site.
Download a copy of the free trial
As always, the best way to get to grips with new products is to test them for yourself, and you can do that using the free 30-day trial version before requesting a full not-for resale licence if you wish
– Download the free 30-day trial of BAMM
Customers – view pricing
– View the latest BAMM pricing on our site 
Resellers – request a free Not-for-resale (NFR) licence
Provided you're a registered member of our partner program at 'Reseller' level or above and currently listed as selling BackupAssist, you'll be able to request an NFR licence.
Add either a 1 or 2 year BAMM licence to your shopping basket here.
Log in to your account
Go to your shopping basket
Click the link underneath it that mentions licences 'not-for-resale'
If you'd like to ask any questions by all means drop us a line in the usual ways.