27 Apr

BackupAssist v9.3.0 – Important Exchange Backup Fix, and New Restore Search Feature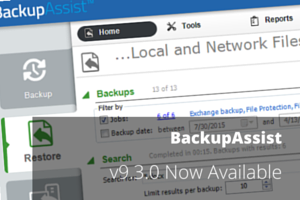 Developer Cortex I.T. have just announced the latest point release of BackupAssist, and it's a version we're highly recommending you upgrade to.
In addition to the usual minor tweaks and improvements, there are two particularly good reasons we recommend you upgrade…
FIX:

An important fix for Exchange backups – this release fixes a recently discovered issue concerning Exchange backups.
NEW:

Great new restore search feature – a brand new feature to make even lighter work of locating your backed up files and folders.
Important fix for Exchange backups
Over the past 48 hours, the developer has identified an issue that occurs when an Exchange deployment is backed up in a certain way, and this release contains the fix.
Description:
The 'File Protection' engine in some cases hasn't been backing up the .edb file correctly when Single Instance Store is enabled. This applies to VSS application backups in all releases of version 9.
If you're backing up Exchange using the File Protection engine (and Single Instance Store is enabled) then the SIS stats on the report may show no EDB files were copied.
The reason for this is that the modified date on the .edb file does not regularly update (this was introduced by Microsoft), therefore when SIS checks this the file appears the same and it's skipped over.
Applies to:
File Protection with Single Instance Store enabled
Exchange VSS Backup
BackupAssist v9.0.0 to v9.2.3
New restore search feature
A restore Search has been added to BackupAssist.
This new feature allows you to search multiple backups to locate the required file or files. This search feature is available under the Local and Network Files restore option.
The Search button allows you to locate files to restore across multiple backups. When you select Search, the Restore console will display the Search page.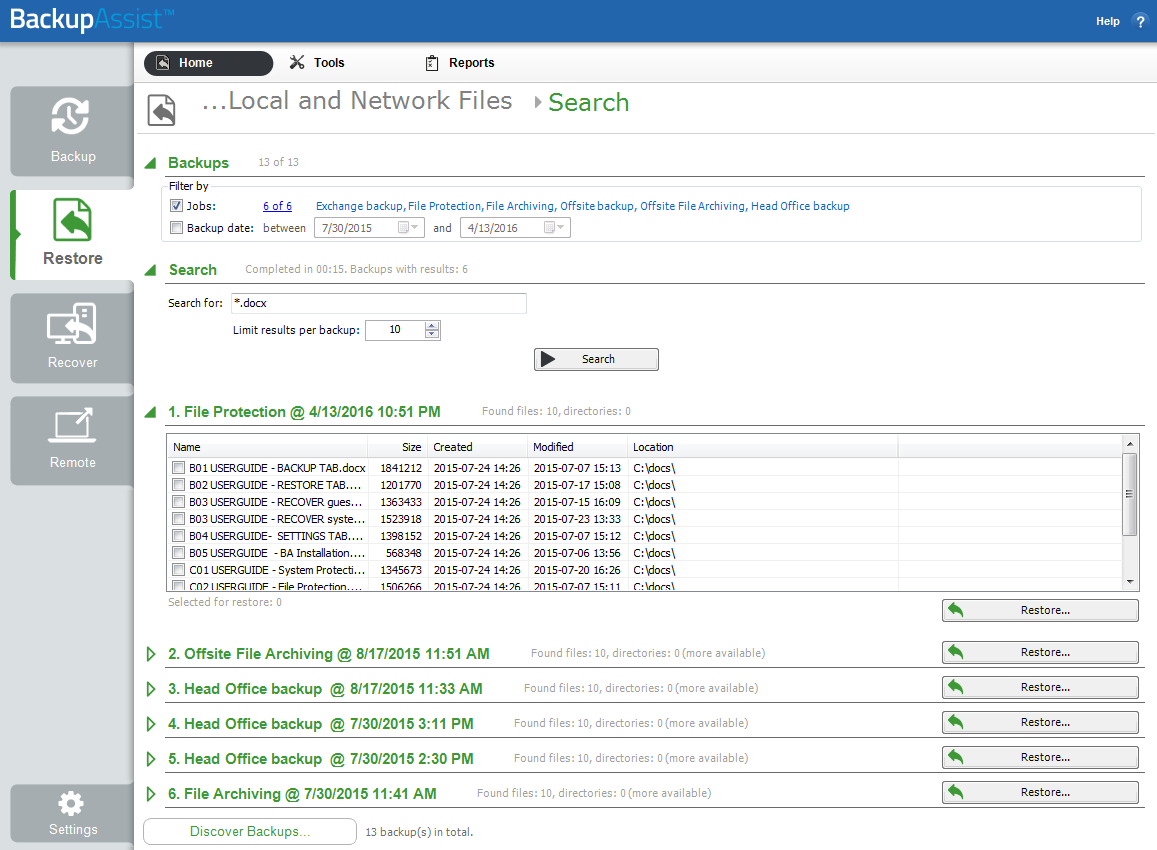 The Backups section allows you to use the Jobs Filter, to limit the search to specific backup jobs. You can also use the Backup Date filter search within a specified date range.
The Search section is used to enter a search term associated with the name of the file you want to find. The Search for field will take the string provided and search for occurrences of that string within a file or directory name. The results of the search are displayed by backup. To perform a restore, you simply select the file or files that you want to restore and select the Restore
Download v9.3.0 now
Provided you have current upgrade protection, you'll be able to download and install the latest version. If you're not sure, enter your key into the upgrades checker on our site.
Hope you enjoy the new release – let us know how you get on in the comments section below.