20 Jan

New video added: BackupAssist in 75 seconds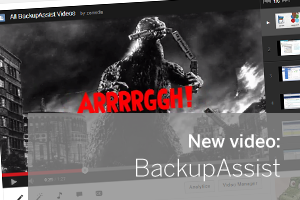 Just a quick one to let you know I've just added a video with the shortest possible explanation I can manage of why BackupAssist should be of interest if you're a small business (or work with one).
I hope you enjoy this latest addition to our Youtube channel – please hit the subscribe button if you'd like to be notified of future updates.
Don't forget, we're always running free webinars for all of our products so if you'd like a more in-depth walk-through with one of our friendly tech team, you'll find more info on those sessions along with a registration form available here.
– – – – – – – – – – – – – – – – – – – – – – – – – – – – – – – – – – – – – – – – – – – – – – – – – – – – – – – –

       Try any of our software completely free for 30-days:
MDaemon email server  |   BackupAssist   |   MailStore email archiver