06 Nov

Trouble activating BackupAssist?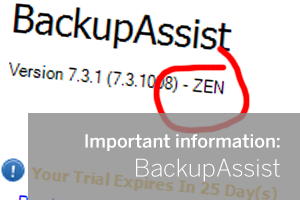 In the latest version of BackupAssist (7.3.1), there was a change to the activation process I'd like to make you aware of as it's understandably catching a few customers out.
In the latest version there was a change implemented to help ensure that as a customer you're on the 'local' build of the software, complete with support links that point back to our technical team here in the UK.
How do I know which version I'm using?
To determine which build you're using, in the BackupAssist interface simply go to Help > About. If you're using the UK build you will see the text  "ZEN" after the version number.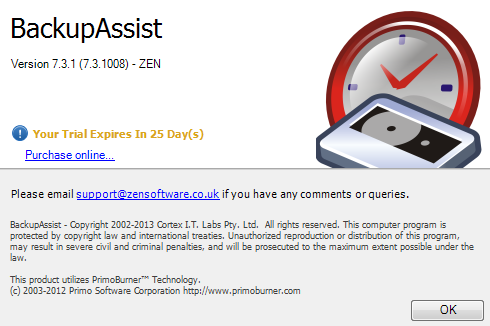 If you're not seeing this you're using the Australian developer build and while this won't affect the day-to-day running in any way, at some point you'll inevitably run in to either an error message or a prompt to upgrade.
Existing customers (pre v7.3.1)
If you're an existing customer using a copy of BackupAssist that you downloaded from the Australian site originally (www.backupassist.com), you'll notice when you next come to activate (usually at renewal or perhaps if you move installations between machines) you'll run in to an error message like the one below:-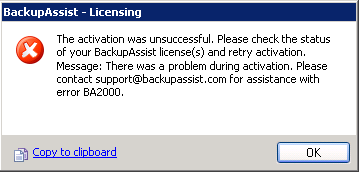 To activate successfully you'll need to download BackupAssist from our site and perform a quick over-install.
Recent purchases and triallists (v7.3.1 or later)
If you're a new triallist, again using a build from the Australian site, when you purchase a key you'll be prompted to update your software at the activation stage with this notice:-

Again the fix is to simply download BackupAssist from our Web site and install over the top.
Does this mean I'll lose all my jobs and settings?
No, don't worry, when you upgrade BackupAssist, all settings including any backup Jobs you have configured are kept. Only the program files are updated.
If you've followed these steps but are still having activation issues please don't hesitate to get in touch with our support team as it may be your issue is unrelated and we'll need to take a closer look for you.
Sorry!
Apologies for the inconvenience of having to go through this process, we realise it's not ideal. Fortunately, it should be a one time thing and in future you'll be able to enjoy the tailored UK build complete with all of the relevant links for support should you need us.
– – – – – – – – – – – – – – – – – – – – – – – – – – – – – – – – – – – – – – – – – – – – – – – – – – – – – – – –

       Try any of our software completely free for 30-days:
MDaemon email server  |   BackupAssist   |   MailStore email archiver