11 Jul

BackupAssist 'Multi-site Manager' Beta – We need you!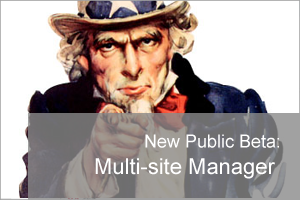 Are you an IT support company? Currently managing more than two BackupAssist customer installations?
We'd love your help in making this much-requested new feature the best it can possibly can be…
It's quite likely you're already familiar with BackupAssist's Centralised Monitoring Console (CMC),a web-based service for monitoring multiple BackupAssist deployments. First launched back in 2010, the service has proven incredibly popular, continuing to save the sanity of many a technician by eliminating the need to wade through individual customer backup report emails.
However, while it works great for monitoring, we've seen lots of demand to take this functionality a step further and introduce an element of control to it too.
Instead of continuing to develop the CMC, BackupAssist will soon be launching a more scalable, more user-friendly and more feature-rich 'Multi-Site Manager' to provide all of the centralised reporting and control you could wish for as an administrator.
The Multi-Site Manager is a standalone software application you host yourself, providing the ability to:
Remotely deploy and update BackupAssist across multiple sites (WAN and LAN)
Control granular settings for your backup and restore jobs
View comprehensive reports on all server activity
Create custom email reports
Manage licences across all of your machines
A public beta version is now available and as your feedback is a hugely important part of the development process, if you can spare the time to install and test it we'd be very grateful.
For full details and access to the beta, please visit the Australian developer's web site here:-