27 Aug

MailStore Server – Minor update (v8.1) – Includes new multi-user file system archiving profile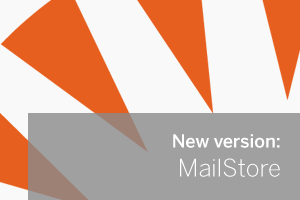 A new update for MailStore has just been made available by the German development team and is now available to download from our Web site.
The main change in this release is the support of the new multi-user file system archiving profile. This new profile analyzes headers from e-mail messages in EML, MSG and PST files when archiving, sorting and storing those messages into the corresponding user archive folders.
This will allow for much easier archiving of existing (journal type archives from other archiving products as well as Microsoft Exchange journals and other email servers such as MDaemon.
Other Improvements  in this release include…
* Directory Services: MailStore can now automatically delete users in MailStore while synchronizing. User archives are never automatically deleted.
* Active Directory Sync: Options to include disabled and/or hidden accounts in the synchronization
* It is now possible to use regular expressions in the folder include and exclude lists, making the folder selection much more flexible.
* Renaming a user archive is now performed much faster in most scenarios. This is done by simply re-assigning search indexes instead of rebuilding the source and target user archives.
For a full list of changes please see the release notes.
Related articles