09 Apr

Updated BackupAssist and Rsync – "How-to" videos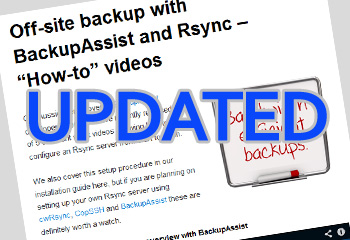 You may recall towards the tail end of last year I posted about BackupAssist developer Cortex's excellent series of six Rsync videos.
I know the ability to off-site your data using BackupAssist is a popular feature so I wanted to let you know that Cortex have updated the series in line with the new version 7 release and I've also updated my original post.
If you use BackupAssist with Rsync jobs I highly recommend you follow the guide lines in these videos to keep up with best practices.
Related articles