03 Oct

MDaemon v13.0.1 now available for download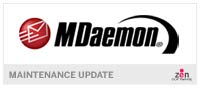 Just a quick note to let you know the latest update release of MDaemon went live today and is available on our Web site ready for download here.
What changes are there?
As a point release version 13.0.1 contains a number of fixes and enhancements, including new features for WorldClient, Webadmin as well as MDaemon's account manager.
For a full list I recommend you have a look at the official product update log here.
To benefit from all the updates simply download and over-install to upgrade your installation of MDaemon to this latest version.
Related articles