10 Aug

MDaemon Messaging Server – a viable alternative to Microsoft Exchange?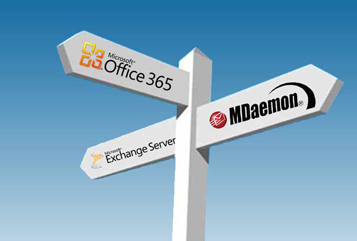 Towards the end of my last post I touched on the fact that Microsoft's recent announcement to drop Small Business Server next year has given particularly its partner community, reasons to look around at potential alternative solutions to Exchange.
In this post I take a moment to highlight some of the reasons MDaemon Messaging Server should be on that list of alternatives you might be considering, including how the costs look alongside the equivalent Microsoft products.
Perhaps you've never heard of MDaemon? Perhaps you used it many moons ago and are just a little out of touch with how it's evolved? Maybe you're an evangelist but still have to sell Exchange because it's the "bigger brand". Whatever your background, if you've been used to using SBS and therefore Exchange, you'll no doubt be aware it's reaching end of life in June 2013. With that in mind, now seems the perfect time to highlight some of the reasons you should be considering MDaemon as a replacement.
Top 10 reasons to consider MDaemon as an alternative to Exchange
Lower total cost of ownership than Exchange (see section below)
Includes Active Directory user synchronisation
No server O/S needed (works with XP upwards)
Outlook integration, groupware & "familiar" Webmail interface
ActiveSync mobile device synchronisation (one-off server cost)
Integrated BlackBerry Enterprise Server (BES)
Flat file and folder structure for easy backup/ restore & migration
Clear and detailed logging for tracking messages
Includes mailshot management tools
Exchange migration tool included
If you'd like to look at the features in more depth, there's information and a 30-day trial available at www.mdaemon.co.uk.
So how do the costs compare? 
While I appreciate it's never good to be competing solely on price, it is a factor when looking at alternatives and the gap between the cost of MDaemon and that of Office365 and "full" Exchange is significant enough that I feel it's worth highlighting.
Why only Office365 and Exchange in this comparison? Well once SBS reaches end of life, If you're a small business (up to 75 employees) with one or two servers (physical or virtual), these are the two main Microsoft options you'll be limited to if you want the basics such as domain control, file and print share plus email.
Up to 25 employees – Windows Server Essentials 2012 + Office365 accounts (hosted Exchange)
More than 25 employees – Windows Server Standard 2012 + Exchange 2010 Std
For the purpose of comparison, I've assumed you'll be using one of either WSE 2012 or Windows Server Standard 2012 as your server platform and concentrated on comparing the software or service providing the email functionality.
The table below breaks the RRP cost down for each, showing first and second year licence costs along with a figure for the two years combined.
*second year costs for Exchange 2012 represent the cost of Microsoft's Software Assurance and MDaemon's represent the renewal cost of the renewal price prior to the upgrade cover expiring.
Below is a graphical view of the total cost of licencing each of the mail platforms over the course of two years.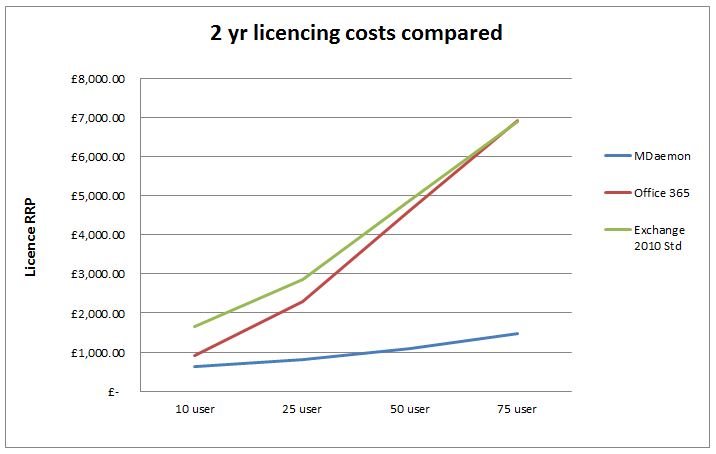 It's not too surprising to see that beyond the 25 user mark (the cap for WSE 2012), the gap in cost really begins to close between hosted Exchange and Office365. You'll notice there's a considerable saving, particularly at this point of opting for MDaemon over either service.
Install the 30-day trial or visit the MDaemon micro-site
Installing the software for yourself is the best way to understand it properly but if you'd prefer one of the team here guide you through a tour of MDaemon by all means get in touch – alternatively, the links below will take you to some useful info.
Download the 30-day trial – http://www.mdaemon.co.uk/download.asp
VIew the full price list – http://www.mdaemon.co.uk/pricing.asp
Screenshots – http://www.mdaemon.co.uk/windows-email-server.asp

– – – – – – – – – – – – – – – – – – – – – – – – – – – – – – – – – – – – – – – – – – – – – – – – – – – – – – – –

       Try any of our software completely free for 30-days:
MDaemon email server  |   BackupAssist   |   MailStore email archiver