10 Aug

Microsoft Small Business Server to 'bite the dust' in 2013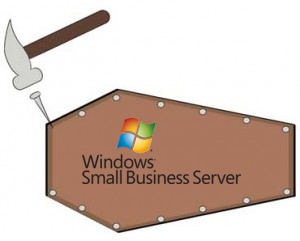 As you may well have picked up on the IT news grapevine, Microsoft have recently announced their plans to kill off the popular Small Business Server 2011 titles in June 2013 as they step up efforts to "guide" small business customers towards their hosted and hybrid offerings.
Despite the fact it came as no real surprise to most of the partners I come in to contact with – the decision has still clearly left many of those who've been loyal SBS evangelists over the years pretty miffed given it's the product they've been building their businesses around.
Partner channel less than amused
"A lot of us have good reasons to AVOID the cloud… Why push everyone into an environment that is not always the best answer??    A lot of businesses still NEED on premises Exchange, and the cost for providing that functionality has just gone through the roof.." reads one of the comments on the Technet site. To read more of reaction from the channel see the official announcement.
At the centre of the frustration is that partners are now being forced to take their customers down a route that many feel they're not ready for.
SBS has been a popular choice for small businesses since 2003. This position was strengthened as Microsoft recognised the need to bump the cap up from the original 50 users to 75 not long ago, making it a one-product-fits-all solution for the small business market.
Ballmer's grand vision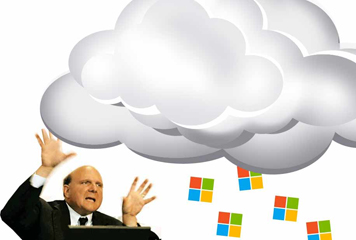 Company CEO Steve Ballmer has long been making noises along the lines that partners must embrace the cloud as that's going to be the basket in which the software giant are firmly placing their eggs. Plenty have too, but Microsoft haven't done themselves any favours easing the transition.
The announcement they'd be bypassing resellers and billing customers direct for Office365 went down like a lead balloon among the SBS communities as they effectively asked partners to hand over their client bases – and for less than generous margins. That mess has since been cleaned up, the decision reversed and the margins tweaked slightly but it left many apprehensive about the future roadmap.
The decision to drop SBS means that companies wanting a Microsoft solution for the sub 25 user market, will now need to buy Windows Server Essentials 2012 (WSE) which still installs on-premise but that notably doesn't include Exchange.
For email services, Microsoft are suggesting using the mail part of their hosted Office365 suite. This will undoubtedly be a good solution for many, however the problem lies in the fact that while the connectivity in other countries may be ready to support them, hosted services still aren't a viable option for many companies in the UK.
Why doesn't everyone just move to the cloud?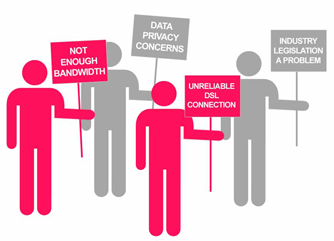 Of course some people just don't like change and will always resist it – however there are a percentage who have genuine concerns about moving to hosted services such as the lack of control they offer compared to their on-premise competition. Another common objection is the level of privacy when data's living on the infrastructure of a third-party and in other cases it's industry legislation that actually prohibits it.
Connectivity quality however, remains for the partners, one of the major barriers to adoption of hosted services. With leased lines still outside of the budget for many small businesses, large numbers are stuck a 2 Mb DSL service or worse, and that's before you take into account the reliability of that service, transfer caps and traffic shaping that's often imposed by ISP's.
Just to illustrate the point – the map below is from an Ofcom survey in 2011 and shows the percentage of users across the country who receive less than 2 Mb DSL speeds.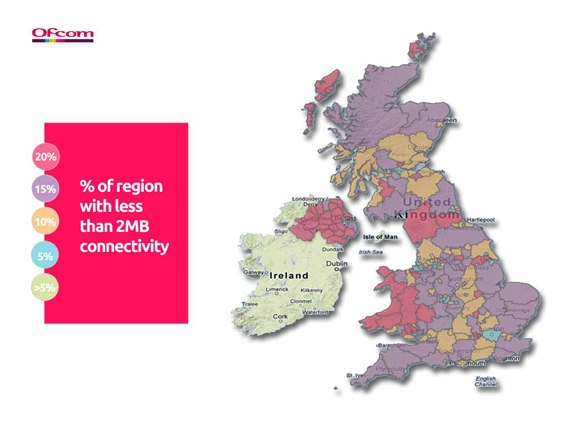 Above: % broadband users who receive less than 2 Mb connection speeds
Further reading: & Ofcom speed map (2011) & Guardian survey (2012)  
The future according to Microsoft
So what do Microsoft suggest if you're a small company but have more than 25 staff? Invest in the full version of the new Windows Server 2012 Standard Edition and the full version of Exchange, along with of course, all the related CAL's for both. Potentially a tricky sell given the dramatic hike in costs over the equivalent solution using SBS.
A world of alternatives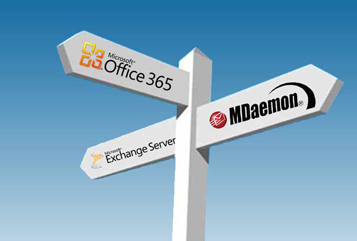 But Exchange isn't the only option – there a range of on-premise alternatives out there including MDaemon Messaging Server which can run in tandem with either WSE or Server 2012. These products offer much of the same functionality but in some cases at a lower cost.
Whether Microsoft are shooting themselves in the foot remains to be seen. In the long-term, perhaps not, but what's clear is that right now they're forcing some partners to re-think what they'll be offering their customers who want email, and ultimately what's going to be best for their bottom line.
Sign up for a free MDaemon webinar
If you're not yet sure about how life after SBS is going to look for you, why not let us show you around MDaemon, the perfect alternative email server for small businesses? Comprehensive Outlook support, full synchronisation with any mobile device, integrated spam and virus protection, Webmail client, instant messenger and much more.
Register free for one of our regular live webinars here, or if you'd like to jump straight to the 30-day trial you're welcome to do so via this link.
Related articles