02 Oct

Kent SBS User Group Meeting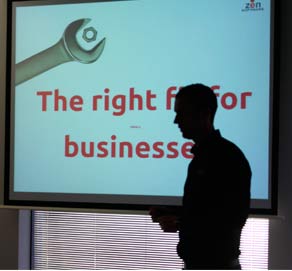 Neil and I recently returned from sunny Chatham where we were kindly invited to come along and talk to attendees of the Kent SBS user group about MDaemon Messaging Server.
This is one of a number of regional groups across the UK which include Manchester, Reading Birmingham, Edinburgh and Glasgow. Each consists of like-minded IT support companies and managed service providers wanting to keep their "toe-in" with market and product developments, discuss some of the challenges they face in the field, and perhaps most importantly, help keep the local Dominos in business.
MDaemon as an alternative to SBS/ Exchange
Our focus for this visit was on discussing MDaemon as an alternative to Exchange given it's particularly topical at the moment. If you've not caught it in the industry press, Microsoft recently announced they'll be killing off SBS next year so the aim of the presentation was primarily to raise awareness of MDaemon Messaging Server as a solid alternative for small business customers.
It was a friendly and informal affair – I led with some "propaganda", setting the scene by outlining the Microsoft changes and providing a high level view of MDaemon's feature set, before Neil delved a little deeper with more of a detailed walkthrough of the product on a virtual machine. MDaemon was well received, Neil was kept busy with a steady stream of tricky technical questions and we also came away with some useful ideas for future product development.
Overall a great visit and opportunity to meet with both new and familiar faces. A big thanks to George @ Business Computer Solutions for the invite and to everyone who gave up their evening to come along and see us present – we hope you all found it time well spent.
Interested in attending an SBS user group?

If you're a registered Microsoft reseller, an IT support company based in the Chatham area and you're interested in attending in becoming a member of this fantastic group, drop me an email (james@zensoftware.co.uk) and I'll get back to you with the details you need.
Related articles