19 Mar

New Whitepaper: MailStore, Email Archiving and the General Data Protection Regulation (GDPR)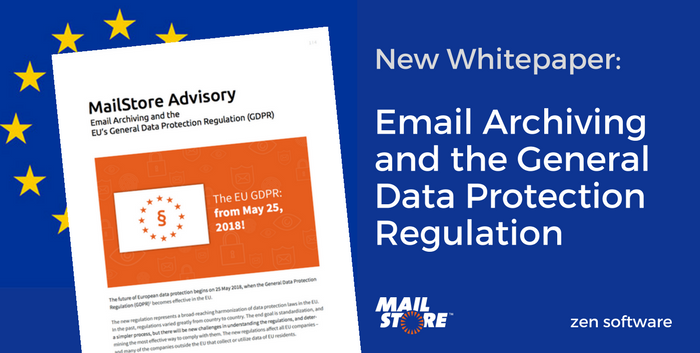 E-mail archiving is an indispensable tool in the armoury of any company looking for a secure but accessible way of storing email. It's also an excellent way to tick a number of the boxes of the General Data Protection Regulation (GDPR).
I touched on this topic in a recent YouTube video and today the German vendor MailStore have released a new whitepaper detailing exactly how to fully support your GDPR compliance customers, available here.
With MailStore, you can offer your customers tamper-proof and mandatory e-mail archiving, regardless of their size and service structure, whether through the MailStore Server on-premise solution or MailStore Service Provider Edition for e-mail archiving as a Service.
New Whitepaper: E-Mail Archiving and the GDPR

MailStore already fulfills one of the key requirements of the GDPR, which is secure, accessible, transparent handling of personal data. Providing information, forgetting and protecting against unauthorised access has been part of the solution at MailStore for years.
How these features now play a key role in GDPR compliance is summarised in the whitepaper for your customers – download now for free.
Watch the video guide

Get to know MailStore

Get in touch, visit our website, watch one of our MailStore videos, or download the free 30-day trial to find out how MailStore or the MailStore Service Provider Edition can help your business.