09 Mar

BackupAssist 10.3 Introduces WebDav Support – An Rsync Replacement?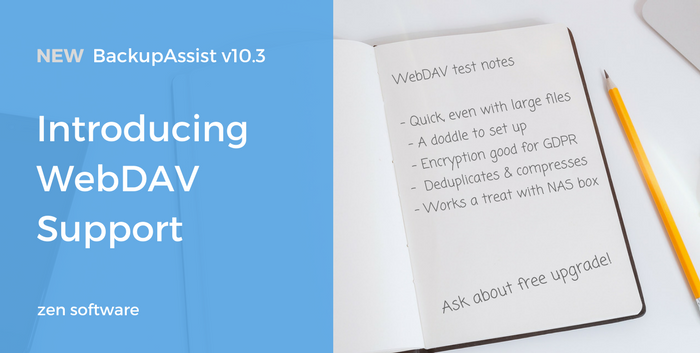 Back in May of last year, there was a veritable buzz in the office as BackupAssist released v10, and with it their shiny new 'Cloud Backup' engine, designed at the time to work only with public cloud giants AWS and Azure.
The buzz was partly around the potential for the new technology. Here was a backup engine that could happily back up large files over a WAN, that would encrypt, deduplicate and compress, and that could also be set up with very little effort.
We mentioned then that this was the first iteration and in the newly released 10.3 you're seeing the next step. In this latest release, the Cloud Backup engine has been expanded to include support for WebDAV destinations, unlocking a wide variety of destinations including Windows machines, NAS devices, and third-party hosting companies.
What is WebDAV?
WebDAV (Web-based Distributed Authoring and Versioning) is a protocol that allows you to create a folder on your computer that will map to your storage space. Allowing you to drag and drop, copy and paste, open, move and delete files as if they were located on your own machine.
Historically it was most commonly used by website developers to upload and manage web content (hence the name). Turns out it's an ideal protocol to use for transferring backup files too because it works over an HTTP or HTTPS connection, which makes it simple to access over the internet.
Benefits for NAS users
Easy network configuration only requires single secure TCP port to be used
Widely supported by all major NAS vendors including QNAP, Synology, Netgear
Ideal for building a totally private secure backup store
Provides means to consolidate multiple server/desktop backups onto a single device
Supports both onsite or offsite NAS destinations
Easy migration of backup data in the future (expand to larger NAS for example)
Benefits for 3rd party cloud storage users
Opens up many more cloud providers you can use with BackupAssist
Makes it easier to find location-specific providers to meet GDPR/compliance
Helps reduce costs through a wider selection of storage providers
Easily distribute backups amongst multiple providers using multiple jobs for added backup resilience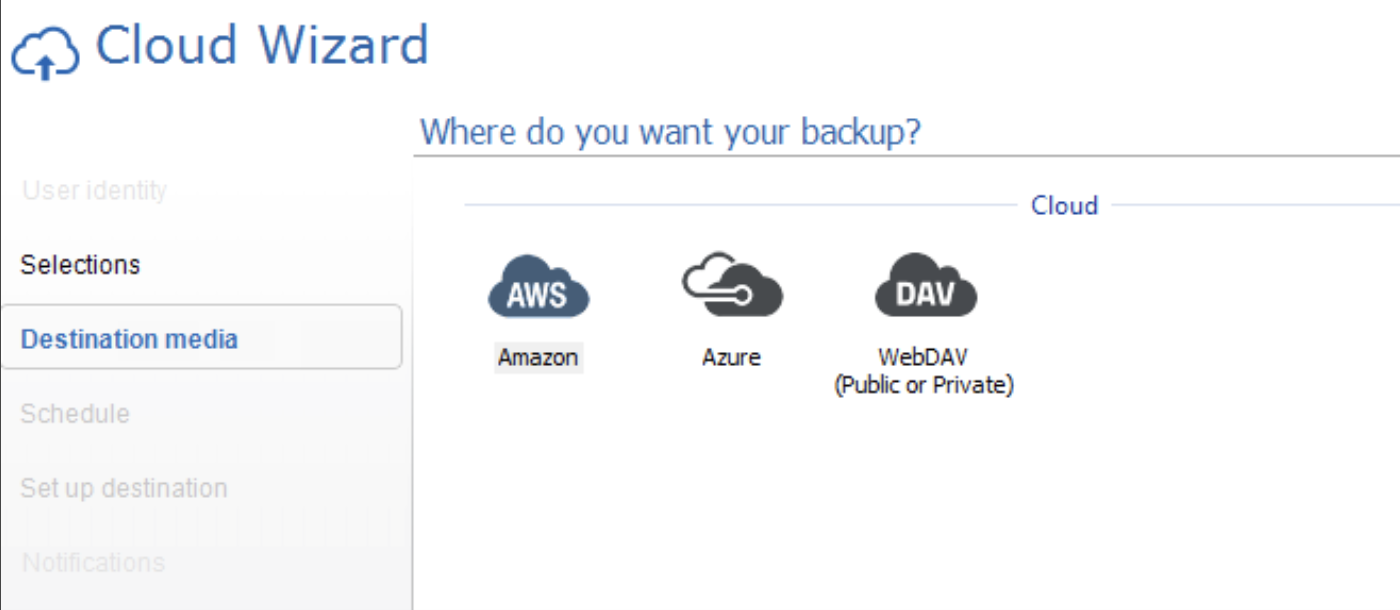 Above: Hurrah! Another icon.
Why should I use WebDAV over rsync?
If you're using rsync we're certainly not planning on forcing you to make the switch, but there are numerous benefits so it's certainly something you should consider.
Reasons we recommend WebDAV:
Large file support – ideal for Hyper-V guests and Exchange databases
Simpler configuration – WebDAV is built into Windows and almost all NAS devices
Speed – full encrypted backups are 20x faster than rsync

Includes the ability to 'resume' backups in the case of interruption

Deduplication on all data shrinks backups significantly 2:1 or better compression
No processing power is needed on the destination – it's just a file store
Minimal overhead for encryption on the client, none on the destination
Flexible seeding – option to use a separate portable seeding disk
It's FREE! – if you own an rsync or Cloud Backup license, and have upgrade cover
Speed and storage comparison
A quick comparison from a workshop test shows WebDAV is 20 times faster than a comparable rsync backup job during the initial full backup.

Note: Based on backup of a production Windows 10 workstation to a Windows Server 2016 (WebDAV, cwrsync)
Any reason I might still choose rsync?
In most cases as long as your destination supports the WebDAV protocol it will probably make sense to switch over. But it's not a one-size-fits-all solution.
Possible limitations:
Mirror mode – R

sync

can offer a job where only one backup is stored on the destination (useful for a file synchronisation solution). This isn't possible with WebDAV.

Schedule templates – rsync has the full range of BackupAssist's scheduling options whereas WebDAV options are limited to '5/2 weekly' or 'Grandfather-Father-Son' currently.
Unencrypted backups – jobs performed with the Cloud Backup engine are always encrypted whereas rsync offers an unencrypted option too.
How much does it cost?
The 'Cloud Backup Add-on' and its 'Standalone Cloud Backup' counterpart are the two products that incorporate the many wonderful off-site capabilities BackupAssist has to offer.
For up to date new pricing, simply head on over to our website and the BackupAssist pricing page.
However, if your installation has up to date cover AND you own one of the following legacy products, the good news is you're entitled to an upgrade, totally free!
Products eligible for free upgrade:
rsync Add-on

Standalone rsync
Off-site Backup Add-on
Standalone Off-site Backup
To upgrade, simply bring your installation up to date by downloading and installing the latest version, at which point you'll see the new options appear in the interface.
Fancy a free 30-day trial?
New Installations
You'll have unrestricted access to BackupAssist and all of the add-ons, including the new Cloud Backup features by default, so simply download the installer from our website.
Existing Installations
If you're already using BackupAssist, you'll need to request a trial key to unlock the Cloud Backup features for 30 days.
Simply contact us by one of the usual methods and we'll promptly email you a trial key.
Download Version 10.3
Bring your installation up to date in minutes by simply downloading the latest version from the link below and over-installing – provided you have current upgrade protection.
Not sure if you're eligible for the free upgrade? Check your licence key using the upgrades checker on our site.
Need help? Have questions? Don't hesitate to give us a shout in the normal ways!