01 Jun

MailStore Server 8 wins MSExchange.org Gold Award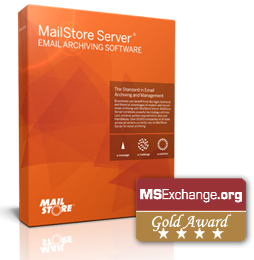 Leading Microsoft Exchange resource site, MSExchange.org, has again awarded MailStore Server with their best accolade in a recent review conducted by Exchange expert, J. Peter Bruzzese.
Bruzzese conducted a thorough test evaluation of version 8.0.3 and was particularly impressed by how quickly and easily the software could be installed and configured.
He also went on to praises the fact there's support for Exchange Server and Outlook 2013, the additional compliance options (email preview, retention policies, legal hold and auditor access), and the wide-ranging options for access via Web Access, Mobile Web Access for iOS, Android, Windows Phone, and BlackBerry.
He labels MailStore Server "an all-in-one solution" and with his closing statement concluded  "I was impressed with it in the past and I'm equally pleased with it now.".
To read the full review visit this link.