25 Oct

BackupAssist – Minor update now live (v6.4.4)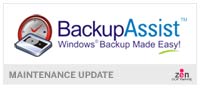 I could tell you all about the exciting new version 7 of BackupAssist which is just around the corner – unfortunately if I do that I'll have some angry Australian developers after my blood!
For now it's probably least messy for everyone that I let you know about what's in 6.4.4 instead….
As you can see from the release notes I've pasted below, this update consists primarily of fixes. To update your installation, simple download the latest executable from our site here and over-install.
Imaging

12787 

Fix

bug preventing imaging backups from starting on some non-English operating systems. The bug also prevented the console from opening in some environments.
13222 

Fix

cluster shared volume (CSV) detection preventing CSV volumes from being backed up since 6.4.3 in some environments.

Mailbox

12614 

Fix

bug causing the backup result to appear as a major warning, and activity monitoring to stall, when the backup actually succeeded on some non-English operating systems.

Misc

13366 

Fix

bugs on some non-English operating systems caused by incorrect handling of some culture settings.

RestoreConsole

7908 Last modified dates in BackupAssist Restore Console are adjusted to the local time zone.

SQL Add-on

12121 

Fix

ArgumentOutOfRangeException in SQL Restore when selecting the point in time across multiple time ranges for a database.
13334 

Improved

monitoring of restores and reporting on failure. Also backup each database prior to restoration, and automatically restore to this backup if the restore fails.

UI

12308 

Fix

NullReferenceException in the reports list when changing the filters
12510 

Fix

edge case bugs in Test Connection feature since 6.4.3.
10109 

Fix

the Size and Last modified columns display in Hyper-V file lists.
12599 

Fix

bug when testing connections for encrypted destinations.
12713 

Fix

typo in support warning prompt dialog
Related articles