05 Jul

INVITE: BackupAssist developer webinar – Agentless backup and recovery scenarios for Hyper-V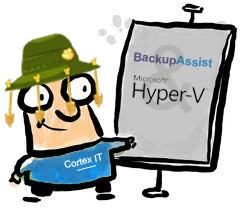 Our Aussie friends over at BackupAssist developer Cortex IT, have opened up a great opportunity for our partners to attend the first in what we hope will be a series of online Webinar/ Q&A sessions.
They're presented directly by the BackupAssist development team and are a unique chance to hear about BackupAssist's Hyper-V backup capabilities while also providing feedback should you wish.
They've still got a handful of spaces left and are looking for a few more participants from the UK and Ireland to get involved. It's completely free so if you're a registered member of our partner program and this topic interests you simply follow the link below to register.
Session details and registration link:-
Agentless Backup and Recovery Scenarios for Hyper-V
(Thursday 19t h July @ 9:45 AM – 10:55 AM BST)
https://attendee.gotowebinar.com/3s45v/register/7591265016423282944
Please ensure that if you do secure a place, you're able to attend – or if you're not for any reason, please drop an email to resellers@zensoftware.co.uk so we can free it up for another company.
As always, feel free to drop me a line if you've got any questions.
Many thanks!
James