21 Apr

MailStore v13.1 Is Here! Time-Saving Features for Admins, GDPR Certification, and Better Security for Exchange Users

From important information about ongoing deals to sensitive HR records and beyond, email archiving is the ideal way to keep the contents of mailboxes safe but still accessible. It's also an easy way as an IT provider to bolster the standard email backup strategy you put in place for your customers.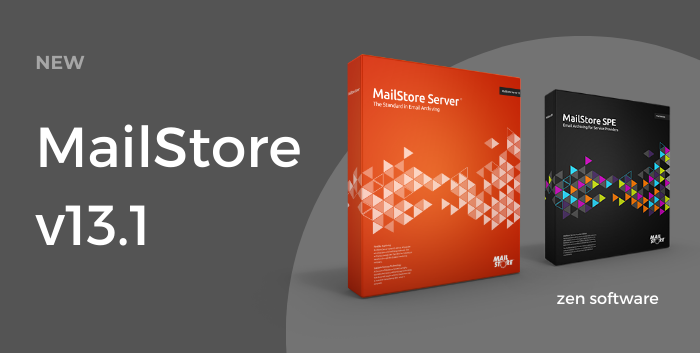 In version 13.1 of MailStore Server and MailStore Service Provider Edition, we see a focus from the development team in two key areas – security and hassle-free management.
Let's take a look at the highlights…
Time-Saving Features for Admins
Monitoring Of Licence Information via API
Keeping track of licence renewals is just one of those necessary evils you need to deal with as an IT provider. It helps prevent your customers from screaming at you, keeps their businesses secure courtesy of the latest updates and renewals are also another source of income for you, even if it's not necessarily your main one.
As a Zen Software partner we let you know in plenty of time when you should be getting in touch with your customers, and we hope you have something set up to remind you at your end also. It's always better to be safe than sorry though and as triple protection, MailStore has now exposed the API so you can connect directly from your preferred choice of remote monitoring platform and see both how many days upgrades cover are remaining and the number of unused user licences for any installation.
Automatic Updating Of Licences
It's a simple one but it's a biggie…
The less time you have to spend messing around with the software you're implementing the better, and now when you update MailStore there really is no zero 'faff'.
Simply make the renewal purchase and rely on the fact that the licence information will automatically update in the background (within 24 hours) without you having to touch a thing.
Winner winner!
GDPR Certification
Independent Rubber Stamping Of GDPR Compliance With Every Release
Perfect backups of your mail aren't the only reason companies use email archiving. Another huuuuge reason is regulatory compliance.
In Europe at least, GDPR is the one that affects most companies, and because it's an area where MailStore can really help businesses, independent inspection and certification by a data privacy expert is now part of every major release.
This applies to both MailStore Server and MailStore Service Provider Edition
Please note, you can request the official audit certificate from sales@mailstore.com.
Better Security for Exchange Users
Support for Active Directory Federation Services (AD FS) Open ID Connect
Back in July of last year Mailstore introduced support for modern authentication for both Microsoft 365 and Google Workspace. In this latest release, we see that extended to Active Directory Federation Services (and also LDAPv3-compliant directory services although we don't tend to see many of those!).
For this to be of interest to you, your customers will most likely need to be using an on-premises Microsoft Exchange Server where there is a local active directory and AD FS server.
If that's the case, you can now take advantage of a really significant increase in security courtesy of support for the latest authentication methods which essentially means that passwords no longer need to be transferred or handled by MailStore.
Interested in Learning More About AD FS?
We've dug out this video from YouTube which seems to summarise the principle nicely…
Other New Features of Note
Warnings for Expired or Soon to Expire Certificates
There's now a new warning that appears on the dashboard and in status reports whenever certificates that are being used as login credentials as modern authentication with Microsoft 365 are about to, or have already, expired.
Significant Increase In Performance When Moving Messages Within the Same Archive
Improved handling of the re-indexing process means that users of MailStore Server and the MailStore SPE benefit from a substantial improvement in performance when moving emails and folders within an archive.
Find a full overview of the new features in the official release notes.
Download the latest version
Provided the upgrade cover of your customer is current, you can download the latest release of MailStore Server, free of charge from our website.
If your customer's upgrade cover has expired, you can either renew it via the partner portal or via this link (you'll need the licence key to hand).
If you're completely fresh to MailStore and would like to take a closer look, you can download the new version as part of the 30-day trial.
Service providers interested in the MailStore SPE can register here free of charge to obtain all the relevant information including pricing and access to a free trial version.
About MailStore
MailStore Server and MailStore Service Provider Edition enable your customers to keep a perfect centralised copy of their email conversations as a backup or for compliance, to manage their mailbox sizes and to keep Outlook running smoothly, and to find messages more quickly.
Trusted by 80,000 customers worldwide, specialist German vendor MailStore are the Experts in Email Archiving.