16 May

BackupAssist v10 Featuring Direct to Cloud Backup for Amazon and Azure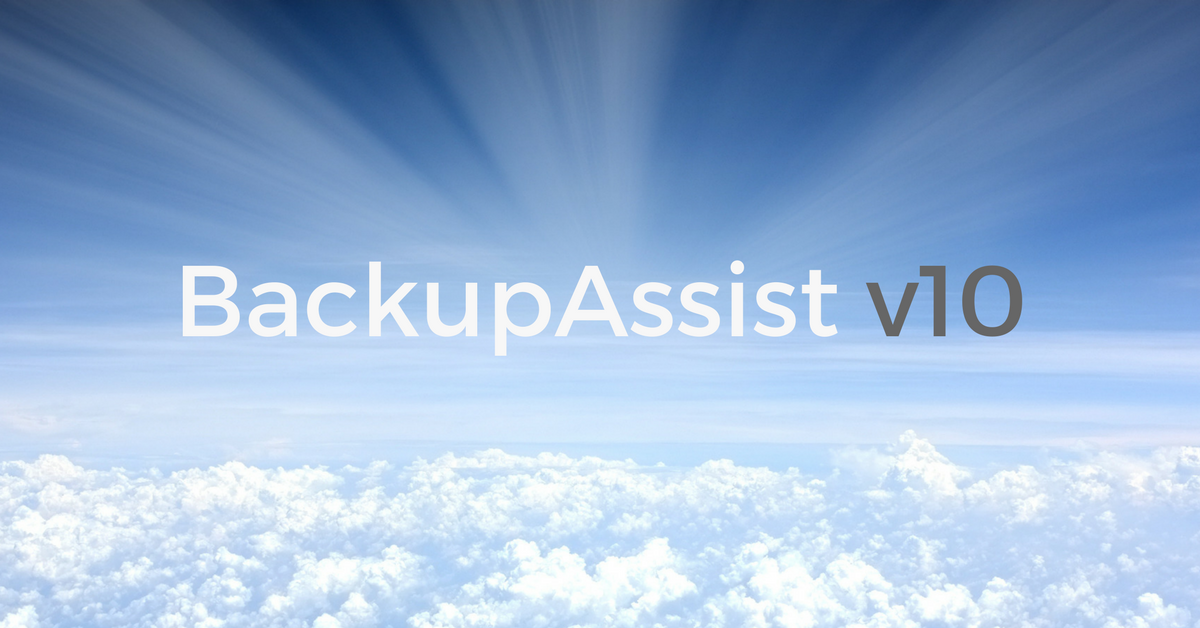 We're thrilled to announce that there's a new version of BackupAssist available today, and with it, new features for backing up your data to the wonderfully reliable and ultra-secure data centres of cloud hosting juggernauts, Amazon and Microsoft (with more to follow).
While you'll find enhancements to the base product too, the headliner for version 10 is undoubtedly the all-new backup engine that's behind the new Cloud Backup features.
Brimming with potential, this new technology offers a simple, secure and efficient way to automate getting your important data off-site.
Don't feel like reading? Check out my 'Early Heads Up' video from last week which also tells you everything you need to know about v10.
Introducing Cloud Backup
BackupAssist Cloud Backup is firmly aimed at customers who want to back up files, folders, and applications such as Exchange, Hyper-V and SQL to a highly secure and resilient off-site location.
Offering deduplication, 'zero-knowledge' encryption and compression, it really does provide an invaluable extra layer of protection for your business at a time when cyber criminals are all too keen to get their hands on your data.
Cloud Backup is available in two guises, either as an add-on for use with your existing BackupAssist installation, or a completely separate 'standalone' licence, should you wish to go down the 'cloud only' route.
Our recommendation is to combine local and cloud backup for the best of both worlds.
Public cloud backup lets you take advantage of the incredible levels of investment the big players are willing to put into their hosting platforms while having a local backup provides the quick hit of instant access to your data when you need it, plus more granular restore options.
Make it chunky
BackupAssist won't be sharing the recipe to the secret sauce behind their Cloud Backup engine anytime soon, but they won't mind me revealing that much of the magic happens by breaking your files into thousands of tiny 'chunks'.
Working with these chunks instead of potentially large files provides several advantages, including that your incremental backups are faster and if you experience an interrupt during a backup, there's no need to start over, you'll have the luxury of simply being able to hit resume.
Deduplication and encryption
Another great new feature of BackupAssist's Cloud Backup engine is dedupe.
With dedupe, you'll find your backups are much smaller than you were expecting because you'll never be sending the same data twice – music to your ears if you're paying for your space by the Gigabyte.
I think it's fair to say that many companies still have security concerns about cloud platforms – hopefully, version 10 goes a long way towards allaying these fears.
Inherently, storing meaningless 'chunks' of data offers some level of security in itself, but because these are also encrypted, the likes of Amazon and Microsoft truly have 'zero-knowledge' of your data when it's living on their platform.
It's also worth noting that these providers will also usually offer encryption options of their own so you have multiple layers of protection.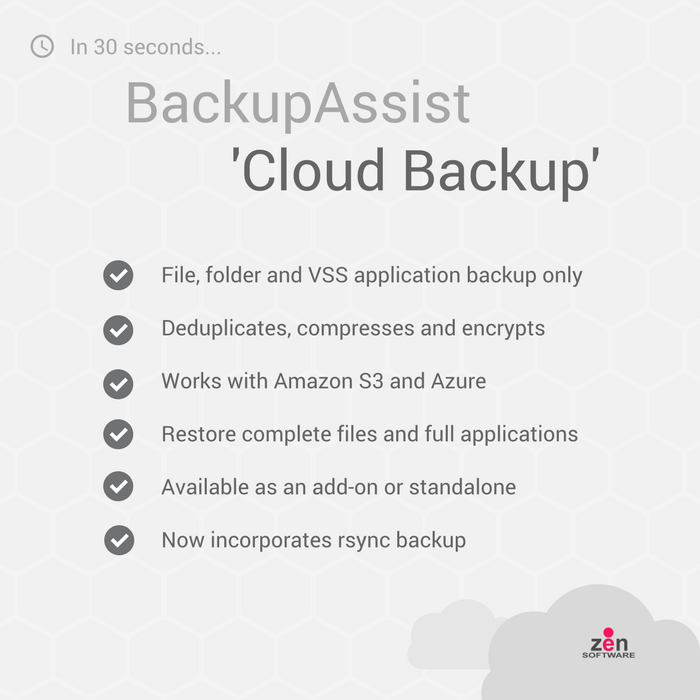 How much does it cost?
The new functionality, in addition to the old rsync feature, is all wrapped up in your choice of either an add-on for use with the main BackupAssist software or a completely standalone version.
With the new functionality comes a small increase in price to both of these options – see below for pricing correct as of launch.
As always, check the price list on our website to be absolutely sure you have the up to date costs.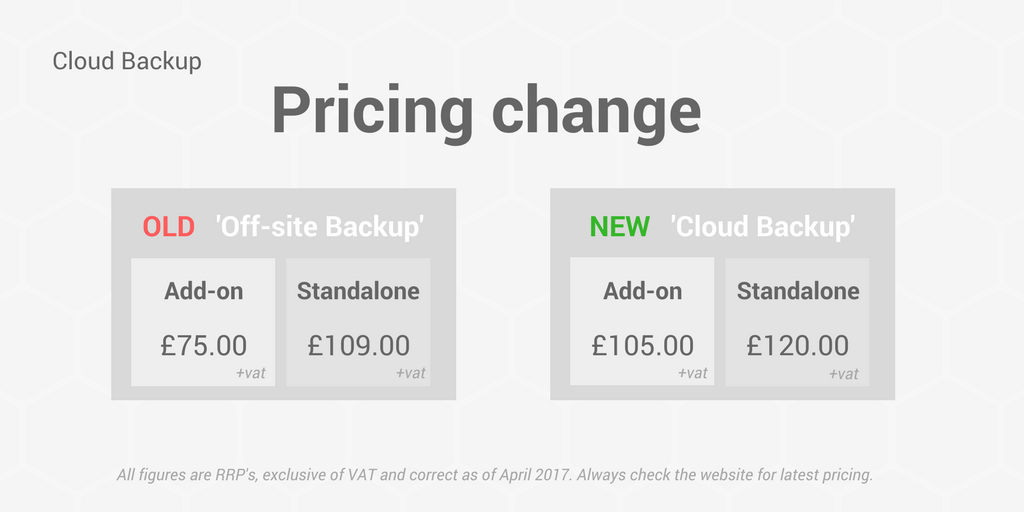 Free upgrades for Rsync users!
If you're an avid fan of the Rsync technology available in BackupAssist and starting to get a little panicky, fear not. Not only does Rsync remain part of the product set for the foreseeable, but if you already own the 'Off-site Add-on' or 'Off-site Standalone' products, you can simply upgrade to the new version free of charge via our website.
The reason for this that the two offer separate capabilities – Rsync is really geared up for working with  'private cloud' destinations, while the new features focus on 'public cloud' only.
The hope in the future is that the new backup engine may open up even better possibilities for NAS devices and the other destinations you might use rsync with currently.
What's new in the base product?
It's easy to get sidetracked with all this talk of the cloud-based goodies in BackupAssist, however, there are some notable improvements available in the core product too – which include:-
Support for Nested VM's
With BackupAssist 10 and Windows Server 2016, you can create, backup and restore Nested VMs; guests that host and run within other guests.
More information on Nested VM's (Microsoft Technet)
Support for Shielded VM's
You can now defend your data from internal and external threats by creating a Shielded VM – a VM that can't be booted up on a non-certified host – and then further protect it with an encrypted backup.
More information on shielded VM's (Microsoft Technet)
All new help portal
BackupAssist continues making the product as easy to use as possible, this time introducing new context-sensitive help, which directly connects you to an extensive repository of help articles based on where you are in the interface.
Video overview of the new help feature (BackupAssist.com)
Out with the old…
As BackupAssist introduce new and better ways of doing things, so we have to remove some of the old features.
When you upgrade to version 10, you'll be warned that you'll no longer have access to some features by doing so.
Deprecated features:
Rsync backup (S3 destinations only – don't panic!)
Legacy Exchange mailbox jobs using the older backup to PST method
TrueCrypt encryption (now replaced by Bitlocker)
Backup to optical disk and flash drives (thumb drives)
Backup verification
What are you waiting for?
New customers
To trial v10 on a fresh installation, you'll have unrestricted access to BackupAssist and all of the add-ons, including the new Cloud Backup features by default, so simply download the installer from our website.
Existing customers
If you're already using BackupAssist, you'll need to request a trial key to unlock the Cloud Backup features for 30 days.
Simply contact us by one of the usual methods and we'll promptly email you a trial key.
Download v10.0 now
Provided you have current upgrade protection, you'll be able to download and install the latest version. If you're not sure, enter your key into the upgrades checker on our site.
Hope you enjoy the new release – let us know how you get on in the comments section below.