30 Mar

MailStore v10.1 – Now With Email Reporting For Administrators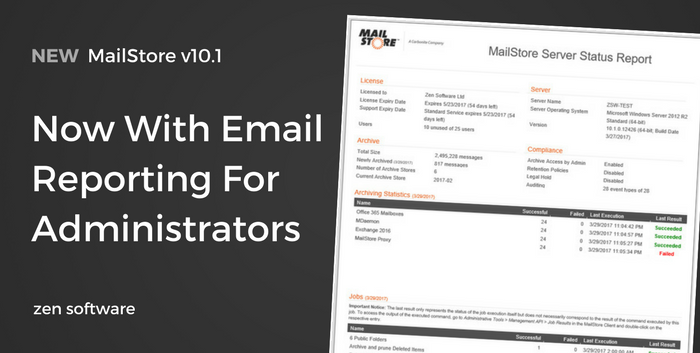 Legally secure, fully automated email archiving is something that every business can benefit from, regardless of size or industry.
Today MailStore Server, the world's leading e-mail archiving solution expands its extensive feature set, to include individual email reports, advanced search settings for users, and further enhancements for administrators.
Individual Email Reports
One of the most popular features within v10.1 will undoubtedly be the new status reports, sent to administrators daily or weekly and providing an invaluable overview of important events at a glance.
The reports contain plenty of useful information, including the status of jobs, licensing details and compliance settings for each of your archives – all of which should make the ongoing management and maintenance of MailStore easier than ever.
Another new feature in v10.1 is the additional search field options which now enables users to search specifically in the attachments, or only in the emails.
In addition, Version 10.1 also doesn't have any limits for indexing attachments, plus the "advanced search" can be started immediately with a right click on an archive folder.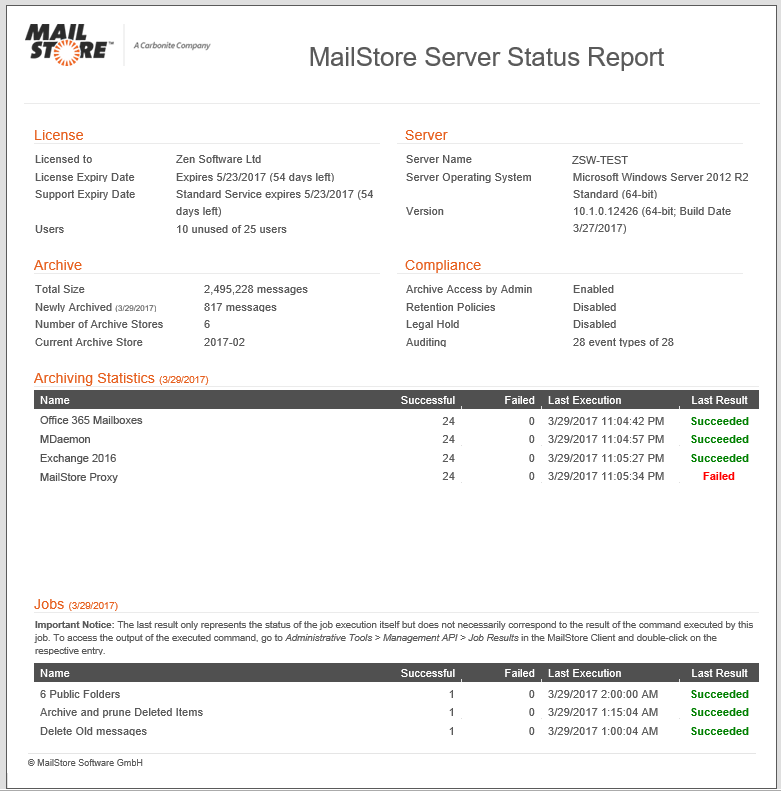 Other Features in MailStore 10.1
Optimized detection and handling of "Sent Items" folders – MailStore Server recognizes appropriate folders via IMAP and allows the administrator to define several of them as "sent objects".
Improved monitoring of admin access – To avoid unintentionally triggering certain actions, the administrator's password is now requested again when accessing user mailboxes.
More on MailStore
MailStore Server is the ideal tool for bringing your email server and mailboxes back under control. Automatically manage your mailbox sizes, upload and centralise scattered PST files and satisfy compliance requirements, all without limiting the amount of email that's available to users.
Supported email servers and platforms
Microsoft Office 365/ Hosted Exchange
Microsoft Exchange Server 2003, 2007, 2010, 2013 and 2016
MDaemon Messaging Server
IceWarp Mail Server
Kerio Connect
IMAP4-compatible email server
POP3-compatible email server
Internet and webmail inboxes such as Gmail or GMX (via IMAP or POP3)
Want a quick tour? Watch the recorded webinar (YouTube)
Download Version 10.1
Bring your installation up to date in minutes by simply downloading the latest version from the link below and over-installing – provided you have current upgrade protection.
Not sure if you're eligible for the free upgrade? Check your licence key using the upgrades checker on our site.




Hope you enjoy the new release – let us know how you get on in the comments section below.