20 Jan

Restoring missing email using the Exchange Granular Restore Console – Part 1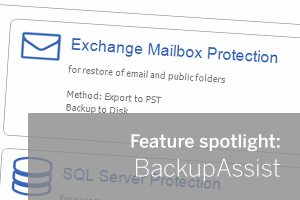 With the release of BackupAssist v7.3 a brand new method for restoring exchange mailbox data was introduced named 'Exchange Granular Restore'. This is still a relatively new feature for many of our customers so I thought it would be useful to put together a guide to introduce this new feature and how best to make use of it.
What's the difference between the 'Exchange Granular Restore' (EGR) and the Mailbox add-on?
With previous versions of BackupAssist to restore a user's mailbox data a separate Exchange Mailbox backup job needed to be created. This additional backup job created a selection of PST files for each user's mailbox. For this reason using this method required more space to store the backups and it took significantly longer to run.
Older Exchange 2003 Servers are unfortunately not compatible with the EGR but if you have purchased a new EGR licence and are using an older Exchange 2003 server it's worth noting that this method is still available in BackupAssist v7.3.
If however you are using Exchange 2007 and above then we feel the new EGR console is a much simpler and powerful way to maintain a brick level backup of Exchange.
So how do I create 'Exchange Granular Restore' compatible backups?
Unlike the existing PST archive method you no longer need to create a specific backup job to be able to restore individual mailbox data. In fact any BackupAssist backup that contains the Exchange database files can be used  by the EGR to find and restore mailbox data.
Please Note: Where it is possible to restore from Rsync and Zip based BackupAssist jobs, in order to open the exchange database backup the backup file must first be restored to a local location  before the EGR can mount the data. For this reason we  recommend using either a  System protection or File protection based Job for speed and ease of use
Whenever you backup an Exchange server at the file level you should always make sure the "Microsoft Exchange Server" box is selected as a VSS application in the files and folders selection window as shown below :-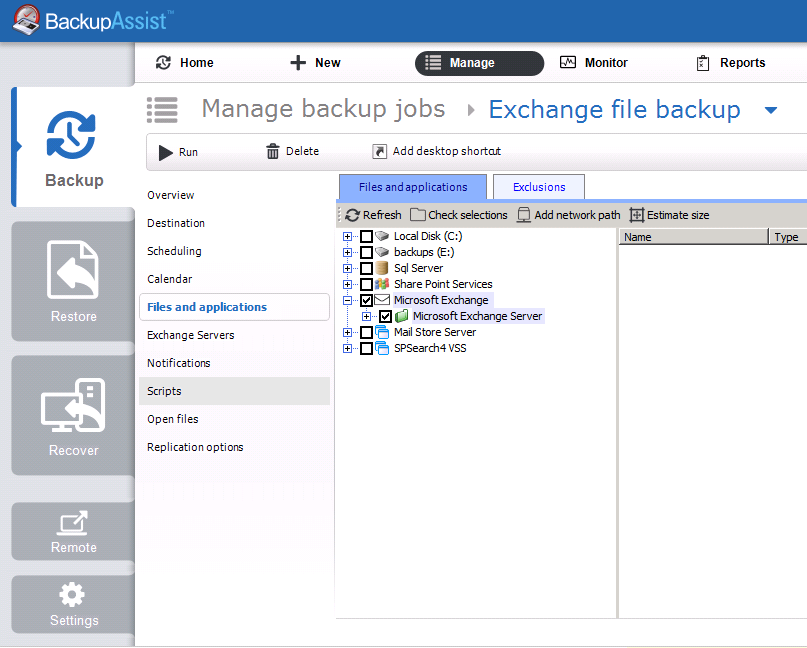 By backing up Exchange in this way you will ensure that any changes made to the exchange database while the backup is running are only written to a shadow copy snapshot and are only committed after the backup has run.
This maintains the consistency of the database file during backup and means that the EGR console can be easily used to mount the backup of the database at the point in time required and to drill down to restore the data.
In the next part of this guide I will show you how to mount the Exchange database and find the missing data you need to restore.
– – – – – – – – – – – – – – – – – – – – – – – – – – – – – – – – – – – – – – – – – – – – – – – – – – – – – – – –

       Try any of our software completely free for 30-days:
MDaemon email server  |   BackupAssist   |   MailStore email archiver