27 Nov

Using MailStore to archive selected MDaemon users only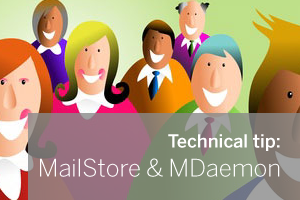 Our installation guide for MDaemon users details how to get MailStore up and running using a combination of two archiving jobs (journalling and mailbox).
That works really well if you want to archive everyone's mail, but sometimes I'm asked about archiving for a handful of users only.
Fortunately MDaemon uses a highly customisable content filter to journal mail which means it's flexible enough to make this possible…here's how I suggest you go about it…
What we're looking to achieve here is audit compliant email archiving (messages are protected from deletion/ modification) but only for specific users.  
The guide I mentioned above would have recommend you use a content filter like the one below to capture all of your messages coming and going from the server.
Standard content filter configuration for archiving ALL messages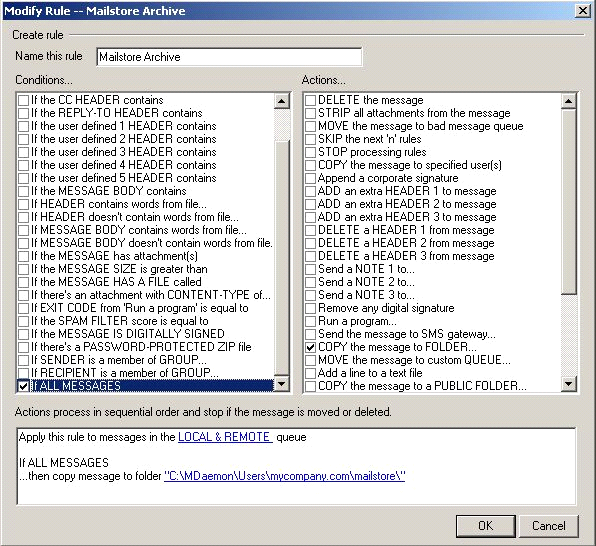 As you can hopefully make out – the filter above does the following:
Looks at ALL email messages that come into or out of the server
Takes a copy of them
Puts copies into a specific folder ('USERS' in this instance)
Note: We've created a separate MDaemon user called MailStore which I recommend you do too.
Custom content filter configuration for archiving SPECIFIC messages only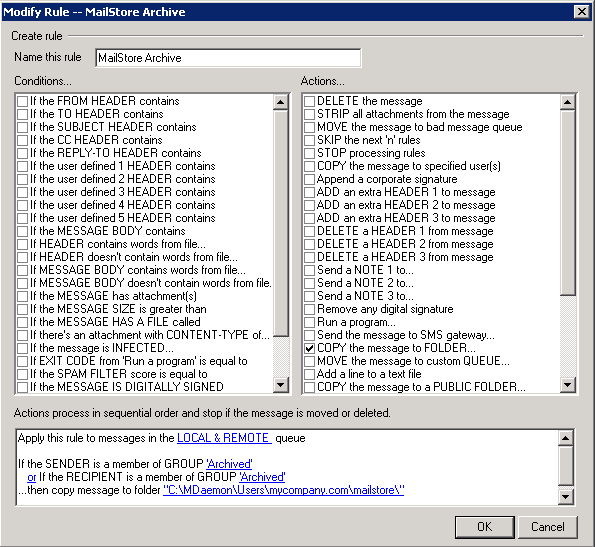 The configuration above only archives for people belonging to a particular MDaemon user group. As you can see in the actions section of the window above, is different to the first filter in one key way:-
We're only synchronising where SENDER or RECIPIENTs are a member of the MDaemon user group 'Archived'
Any mail 'TO' and 'FROM' the aliases linked to these members will also be archived using this approach, as well as MultiPOP and DomainPOP collected emails.
What I like about doing it this way is that new users to this group are automatically synchronised with MailStore and their email automatically archived once a day – all in one step.
Shout if you're stuck!
I hope you found that useful but we are on hand for customers and trialists so if that's not making sense please feel free to get in touch and we'll be happy to help you out with it.
– – – – – – – – – – – – – – – – – – – – – – – – – – – – – – – – – – – – – – – – – – – – – – – – – – – – – – – –

       Try any of our software completely free for 30-days:
MDaemon email server  |   BackupAssist   |   MailStore email archiver