17 May

MailStore Server – Minor update (v8.0.4) – Includes MDaemon 13.5 Support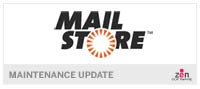 A new update for MailStore has just been made available by the German development team and is now available to download from our Web site.
The main change in this release is the support of the new USERLIST.DATformat which is used in MDaemon version 13.5 (due to be released soon). So if you are archiving MDaemon with MailStore and are planning on updating MDaemon to Version 13.5 this MailStore update would be defiantly worth applying beforehand to maintain user synchronisation.
Other changes in this release include…
* [Improved] When sorting by sender/recipient or subject, messages with the same sender/recipient or subject are now sorted by the message date
* [Fixed] MailStore Mobile Web Access redirects to the desktop version of MailStore Web Access after a successful login
Related articles