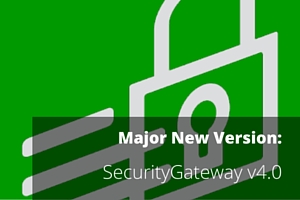 Whether it's mildly irritating offers for cut-price blue pills, or something altogether more sinister such as holding your company files ransom, today's cyber-criminals are using increasingly sophisticated and varied techniques to target your business by email.
Today saw the latest major release of SecurityGateway, a software firewall that sits between your Exchange, MDaemon, Kerio or Smartermail server, and your router, protecting your organisation from spam, viruses, spoofing, phishing and more.
In this post, we take a whistle-stop tour of the new features.
As always, this is just our highlights, a comprehensive list of all new features and enhancements can be viewed in the SecurityGateway Release Notes.