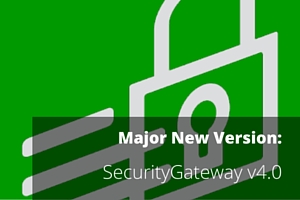 The mail remains the access to point to your business for cyber-criminals.
As an IT administrator, you are blessed with unenviable task
that the vast majority of cyber criminals can get access to your
Well, up until today, the answer would have been SecurityGateway, the email software firewall from Texas-based email security specialist,
the software firewall that sits between your Exchange, MDaemon, Kerio or Smartermail server, and your router, protecting your organisation from spam, viruses, spoofing, phishing and more.
In this post, we take a whistle-stop tour of the new features.
As always, this is just our highlights, a comprehensive list of all new features and enhancements can be viewed in the SecurityGateway Release Notes.