08 Jul

Live Webinars for MailStore Service Provider Edition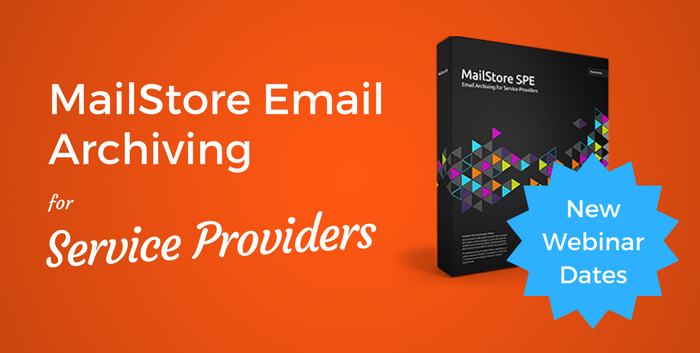 Following on from the recent announcement concerning the reduced entry requirements for becoming a MailStore Service Provider, our colleagues over at the German developer have released a number of webinar dates over the coming weeks.
These sessions are a fantastic opportunity to hear directly from the developer and to raise any questions you might have following the short presentation/ walkthrough.
If you're thinking about building your own archiving as-a-service platform and becoming a MailStore service provider, this is the perfect way to find out more without any pressure or obligation to take it further.
Register for the latest dates:
To receive a webinar invite email and to express an interest in MailStore SPE, please simply leave your name and an email address below.
[contact-form to='sales@zensoftware.co.uk' subject='New registration for a MailStore SPE webinar – send EOL form'][contact-field label='Name' type='name' required='1'/][contact-field label='Email' type='email' required='1'/][/contact-form]
MailStore Service Provider Edition
A Windows-based software solution for service providers, MailStore SPE enables you as a partner to offer your customers modern email archiving services from your own IT infrastructure.
It's scalable and, if necessary, highly redundant, making it suitable for both small providers, who can take advantage of an easy-to-use single-server mode, and partners with large numbers of customers, where a multi-server mode is needed.