22 Feb

Archiving POP3 and SMTP servers with the MailStore proxy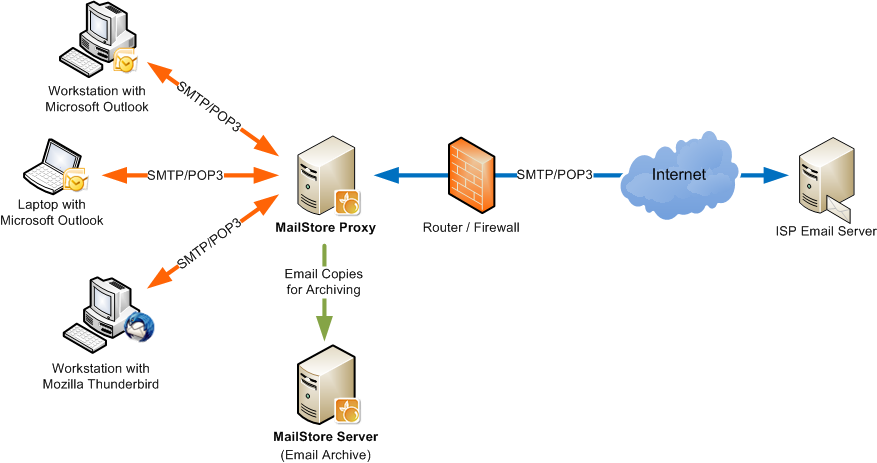 I don't often get asked about the MailStore proxy, as most of our customers tend to use a local email server of some kind such as MDaemon or Microsoft Exchange where it's not needed. Every so often however, I'll be asked about creating a centralised archiving solution for an off-site POP3/ SMTP service which is where it provides a simple but effective solution.
Typically customers using these services will have have been using simple, user-based archiving such as the manual creation of local PST files which may or may not be include in a wider backup strategy – by no means an ideal solution.
The MailStore proxy is a small utility that can run on any server on the customers network, proxying SMTP and POP3 traffic in and out. Not to be confused with a mail server, it doesn't store email for users to collect, but rather it manages the POP3 and SMTP sessions in real time, simply taking a copy of the message data as it passes by. It then stores these copied messages into a Windows folder to be collected at regular times by the MailStore server. It works in a very similar way to message journaling in Exchange but is compatible with any POP3 and SMTP server.
To use MailStore in this way you'd configure the proxy to use the Internet POP3 and SMTP servers that your clients would usually connect to and then reconfigure the email clients to connect to the proxy instead. All other user login details are left alone and used by the proxy when authenticating. One of the key benefits here is that users are unable to delete messages prior to them reaching the archive, which is a pre-requisite for companies needing to store messages for compliance purposes.
So, if you're stuck for a nice and easy way to reliably archive your POP3 email clients, it might be worth taking a look at the trial of MailStore,  and this guide provides you with the setup instructions.