15 Sep

BackupAssist 6.2.5 released – Are you encrypting your backups yet?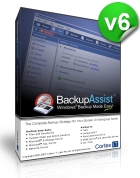 The latest version of BackupAssist 6.2.5 was released today so be sure to to download and upgrade your copy. For a full list of fixes and changes please consult the release notes.
This version consists mainly of a long list of fixes and minor improvements, one of which being that there's now support for system state backups when using the TrueCrypt encryption option.
If you haven't yet tried it, we would highly recommend the TrueCrypt integration within BackupAssist for securing your offsite backups when using any file replication jobs. Added to version 6 of BackupAssist free of charge, it's very simple to configure and with it you'll benefit from industry standard AES 256-bit encryption in what is essentially real time.
To find out more on configuring BackupAssist with TrueCrypt please have a look at our knowledgebase article:- HOWTO: Encrypt File Replication jobs in BackupAssist using TrueCrypt