28 Mar

Free Back Up Of Your Orange (EE), Freeserve And Wanadoo Email With MailStore Home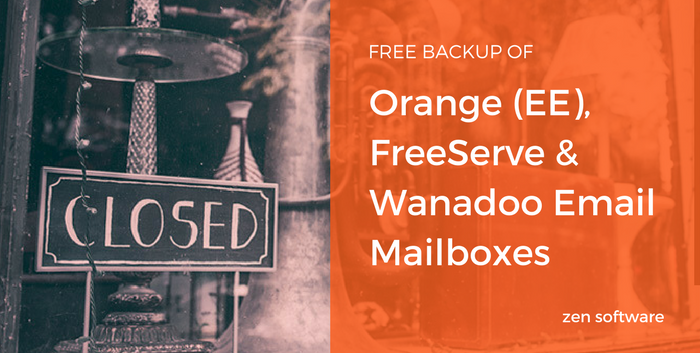 Users of Orange (EE), Freeserve or Wanadoo email accounts will need to start thinking about moving to an alternative email provider, following Orange's recent announcement to close the Orange Email service on 31st May 2017.
If you're an Orange Email customer and looking for a simple way to take a copy of your historic email before the service terminates, look no further than MailStore Home, the completely free version of our paid product aimed at businesses.
How does MailStore Home work?
MailStore Home is a Windows-based software application for email archiving, intended for installation on either on a laptop or desktop machine.
Once installed, MailStore connects to your mailboxes, takes a copy of all email and imports it into a secure database on your hard drive. It does this as many times as you like, whenever you decide to click to update via a handy desktop shortcut (scheduling is a perk of the paid version).
With all of your mail securely archived it becomes incredibly easy to search, and once you're up and running with your new mail service, you can simply continue archiving email regularly to the same location, keeping one centralised email store for complete peace of mind.
MailStore Home supports the following services:
Internet mailboxes such as Orange (EE), FreeServe or Wanadoo
Any POP3 and IMAP mailboxes
Microsoft Outlook 2003, 2007, 2010, 2013, 2016
Windows Mail und Windows Live Mail
Microsoft Exchange Server 2003, 2007, 2010, 2013 and 2016 mailboxes
Microsoft Office 365 (Exchange Online)
Mozilla Thunderbird and SeaMonkey
PST, EML and other files
So where can I download a copy?
You'll find the full version of MailStore Home available for download free of charge on the developer's website at the link below:-
– Download MailStore Home Edition
And it would be remiss of me not to mention that you can also find information and a free 30-day trial of the full commercial version of MailStore Server, complete with all of the bells and whistles at the following link:-
– FREE 30-day trial of MailStore Server (for businesses)
I hope you find MailStore Home a useful tool – by all means free to drop a comment if you're impressed. Likewise, let us know (constructively) if you're not!