05 Aug

Windows 10 Compatibility and Our Products – Latest News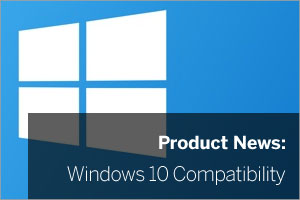 Unless you've been living on a remote island for the last couple of weeks, and also covering up your Windows task bar every time you use your computer, you probably know that Windows 10 is now available to the masses.
Yes, Microsoft's new flagship desktop O/S is upon us in all of it's glory. It'll take some time to see whether the hype was justified, and of course to discover the new features (and quirks), but if you've already upgraded or are thinking about doing so, you'll no doubt be keen to know how it interacts with our products.
In this update I'll detail what level of support (if any) is currently offered for each of the products we distribute.
PLEASE NOTE: This post will be updated as soon as we have any updates from our vendor partners on compatibility so please feel free to check back.
BackupAssist for Windows
OFFICIALLY SUPPORTED
At this stage BackupAssist doesn't support Windows 10 so we do not recommend you attempt to use the two together. The developer are yet to announce when official support will be present but we don't expect it'll be far off.
UPDATE: Supported as of v9.2.3
We recommend you hold off until we have a further update from the vendor (we'll publish that here).
More information on BackupAssist
MailStore Server
OFFICIALLY SUPPORTED
As of now, there's no official support for Windows 10 but based on our tests we haven't seen any issues with either the Outlook Add-in or the MailStore Client. We're currently running both of these on two desktops in the office without any problems thus far.
We did find a small issue with .NET 4.6 that is Windows 10 specific however that one's already been fixed and will be in the next release which is due shortly.
We're yet to test MailStore Server but will do so as as soon as possible. I'll keep you informed here as soon as we know more.
More information on MailStore Server
UPDATE: The newly released MailStore v9.3 now officially supports Windows 10.
MDaemon Messaging Server
OFFICIALLY SUPPORTED
Alt-N Technologies have today confirmed that MDaemon does officially support Windows 10.
Prior to the announcement our quality assurance team have were using the latest version of MDaemon installed on a Windows 10 machine and can confirm it's been running perfectly.
SecurityGateway for Exchange
OFFICIALLY SUPPORTED
SecurityGateway, the spam and virus protection firewall for Exchange, now also officially supports Windows 10, in addition to the earlier desktop operating systems.
SecurityGateway would normally be installed on a server O/S however I'm aware that some smaller customers do take advantage of the fact it's happy running on recycled desktop hardware.
More information on SecurityGateway
Let us know your findings
I hope you found that useful – please feel free to leave a comment if you have anything to add to these findings that you think might be of benefit to others.