14 Jul

Become a More Profitable MSP – The Raise Your Game Roadshow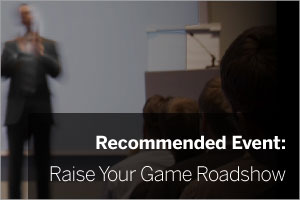 It's not often we promote events that aren't actually our own on the blog, however this particular one is national , it's free and it's aimed specifically at IT support companies and MSP's like you who want to make your business more profitable.
It's also the brainchild of the highly acclaimed IT Marketing Agency and industry expert Richard Tubb, both of whom stole the show at our recent partner event so we have no doubt it'll be of the usual high calibre and well worth your valuable time.
Visiting Edinburgh, Newcastle, Manchester and London, the specific aims of the roadshow are to help you: 
Use vendor partnerships to better meet the needs of your customers
Develop and execute a go-to-market strategy to help your business develop fast
Increase business with sales and revenue strategies for high growth
Become a more profitable MSP

Dates for the four cities are as follows:-
It's a fantastic agenda with plenty of content for you to take away and take action on so be prepared to make plenty of notes!

Trends in managed services

Kicking off the day will be a vendor neutral presentation from leading voice for the IT industry CompTIA. Presented by Sylvia Collins.
Sales & marketing for MSP's – What You Need to Know
Richard Tubb will be joining Gemma Telford of the IT Marketing Agency to reveal the most innovative and powerful marketing and sales solutions being used by MSPs and resellers today.
How to Build and Sustain an MSP Business
Andy Pope is MD of Consort Group, a successful collective of Managed Service Providers who are working collaboratively to leverage their strength, improve their businesses and win nationwide opportunities.
Richard Tubb will be hosting a Q&A session with Andy about exactly how they've done it.
Profitable Partnering

This Quick Start session presents six strategies for gaining the greatest benefit from your investment in vendor partnerships. Presented by Sylvia Collins.
Plus there are other sessions including Building Your Margin: New Solutions with Epson, The Complete Data Protection Platform – A Breakthrough Solution for MSPs fromInfrascale, Building Your Business with AVG – Partnering for Growth and a presentation from James Foxall, CEO of Tigerpaw Software. 
On top of that I understand there will be a complimentary lunch, time to network and a tour of each of the stadium's we're visiting too!
Register for the Raise Your Game Road-show
To register for the Road-show visit the Raise Your Game site and sign-up.


I'll be attending the Manchester event hoping to so I hope to see you there!