10 Jul

MailStore Home Edition – The Free Email Archiving Software For Your Personal Email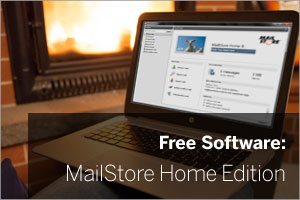 As an archiving solution for individuals, MailStore Home is a hidden gem, and one we're guilty of not giving enough exposure here on the blog. 
In a nutshell, MailStore Home solves two of the biggest problems you're likely to face as a home user with a personal email account(s):
How to find specific emails quickly when they're buried among hundreds of messages from GroupOn 
How not to lose your email should your hosting provider spontaneously combust
So apologies for not mentioning it sooner folks – here's a quick rundown of what it is, how it compares to the business version (MailStore Server), and why you might like to start using it.
What is it?
MailStore Home is a Windows-based software application for email archiving, intended for installation on either on a laptop or desktop machine.
Once installed, MailStore connects to your mailboxes, takes a copy of all email and imports it into a secure database held locally on your machine. It does this whenever you decide to click to update via a handy desktop shortcut (scheduling is a perk of the paid version).
There's support for a whole range of different email sources and locations, so regardless of how you're set up at home, you should be supported. A full list is available on MailStore's web site.
The most common ones include:
Any hosted POP and IMAP email accounts
Office 365
Most versions of Outlook (from XP to 2013)
Windows Mail
Exchange mailboxes (2003 to 2013)
Thunderbird and Seamonkey
1) A simple way to back up your email
The main reason a lot of home users choose to use a product like MailStore is because even for their personal email, they'd rather not rely entirely on their mail provider to keep it safe and secure.
By having a local copy of your mail stored safely in an encrypted archive, you've immediately got some peace of mind that another copy exists, but in addition, your messages are then muhc easier to back up to a USB hard disk (or other media) should you wish.
2)  'Uber-quick' searching of your personal email
The backup side of things is great for peace of mind, but day to day, one of the things I like most about MailStore home is just how fast you can find emails.
I won't mention the provider I use but it's one of the big name hosts. The search is ok but it's not quick and the options are quite basic in comparison to MailStore.
Not only is MailStore fast, (results are returned instantly) but the searching more thorough. So if you're like me and often only able to remember obscure references to the email you're looking for – MailStore is great because it searches across the full message body, inside attachments and of course the usual header information, sender, date etc.
3) The answer to your email 'hoarding' ways!
I don't know if you're guilty of holding on to way more mail than could ever be useful at work but it's certainly not uncommon in my experience. Well, some of us have carried on the 'hoarding' at home too and this is where MailStore's pruning feature comes into its own.
Set your retention period and MailStore will clear out all email older than a specific age (we set ours to 12 months for example), which in addition to keeping your mailbox at a manageable size, may also help you keep within any data storage limits set by your Internet Service Provider (ISP).
MailStore Home Vs. MailStore Server
Now, the last thing I want to do is talk you out of looking at MailStore Home by listing all of the features it doesn't have. However, it does happen to be one of the first things people ask me so I think it's something you'll find useful for me to cover.
So don't see these as negatives, more just as how it's different from the paid version.
Popular MailStore Server features NOT in the Home edition:
No support for multiple users (this is a single machine solution only)
No client-based searching (no Outlook plug-in – all searches are performed from the MailStore desktop client only)
Unable to import PST's (PST archives cannot be imported directly)
Archived email is only accessibly from the machine MailStore is on (the Server edition can be accessed from anywhere via web client and mobile devices)
No automatic archive updating (you'll need to periodically click a desktop icon to perform the mailbox synchronisation)
No telephone or email support (in the unlikely even you need help, it's available via the MailStore forums and Facebook page only)
Is it completely free?
It is! There are no 'gotchas', MailStore aren't going to ask you to renew anything in the second year, to pay to unlock features, nor will they plague you with adverts or pop-ups in return for using their software.
It's completely free but of course, the aim of showing you how good they are at making software means you might just be tempted to try the business version too.
So where can I download a copy?
You'll find the full version of MailStore Home available for download free of charge on the developer's website at the link below:-
– Download MailStore Home Edition
And it would be remiss of me not to mention that you can also find information and a free 30-day trial of the full commercial version of MailStore Server, complete with all of the bells and whistles at the following link:-
– FREE 30-day trial of MailStore Server (for businesses)
I hope you find MailStore Home a useful tool – by all means free to drop a comment if you're impressed. Likewise, let us know (constructively) if you're not!