03 Dec

MailStore Achieves Top Marks in Customer Satisfaction Survey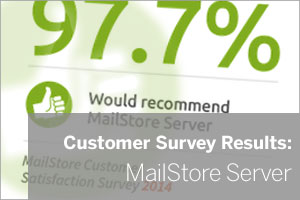 Our friends over at the German developer of MailStore Server have been busy conducting an international survey of 480 customers in the United States of America, Canada, Australia, New Zealand, Great Britain, the Netherlands, Belgium, Germany, Austria, and Switzerland.
Respondents were asked to rate the popular email archiving software in terms of documentation, support, product features from the administrator's and user's point of view, and the price/performance ratio.
We're very pleased indeed to report that the response they received is in line with the glowing feedback we always hear as the UK distributor.
For details, read the full report below…
"97.7% would recommend MailStore"
We're delighted with the product related feedback which includes:-
97.7 percent of those surveyed would recommend the email archiving solution
96.1 percent of participants rated stability as 'Very good' or 'Good,'
93.2 percent judged performance of the software solution as 'Very good' or 'Good.'
The services provided by the technical support team were also examined:-
92.8 percent of those who took part in the survey rated the quality of support as 'Very good' or 'Good' and 92.2 percent judged response times to be 'Very good' or 'Good.'
MailStore are delighted with this fantastic feedback and would like to thank all of those who took part in the survey as the information they're received really is proving invaluable.
You can find more information about the results in the official MailStore press release and in their new white paper Customer Satisfaction Survey 2014.