20 Oct

BackupAssist™ & Acronis® comparison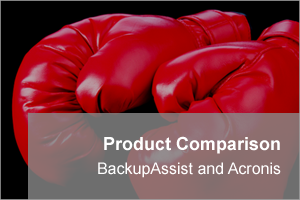 Selecting backup software is an important decision. You need to compare your data protection needs against the features provided, and make a careful evaluation of what backup solution provides the best value.
In this post we explore some of the key requirements, and how both Acronis and BackupAssist support them.
The User Interface
BackupAssist v8 user interface
BackupAssist uses tabs to display each of the functions available: Backup, Restore, Recover and Remote. If you select Backup, you are provided with a guided step-by–step process to create a backup job. If you select restore, BackupAssist will display the backups available and the restore tools that can be used.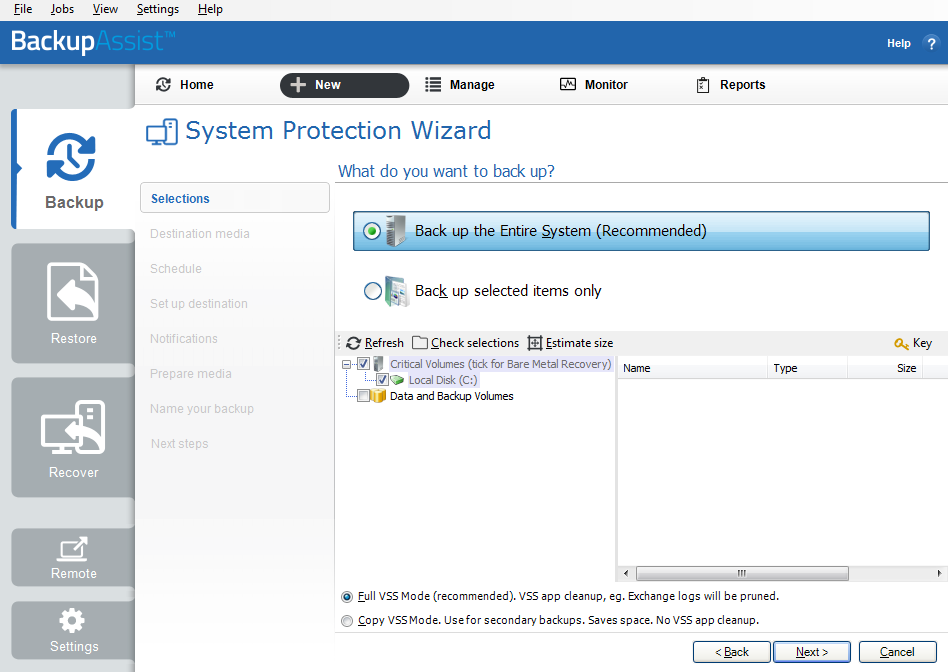 Acronis v11.5 user interface
Acronis uses a menu to display the features and technologies available. If you select backup or recover, you will be provided a page that lists the configurations required, for the selection that you made.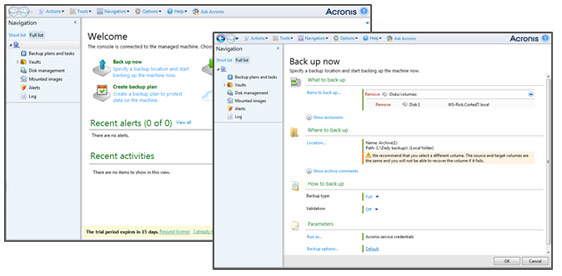 Product Impressions
Backup job creation with BackupAssist uses a step-by-step wizard that takes you through a set of dedicated setup screens so that no information is missed and items with dependencies (like media types and schedules) are completed in the correct order. This helps you get it right – first time. Acronis has all of the steps grouped on one page, leaving it to the user to work through what fields should be filled in and in what order. The backups that Acronis creates use proprietary files that only Acronis can restore, whereas BackupAssist can backup to both WinZip archive files and Windows VHD images.
Recovery media creation with BackupAssist, starts with an option to use the local Windows operating system or the operating system install disk to create the recovery media. Once selected, the creation process is streamlined and simple. Acronis supports both Windows and Linux recovery media, so the creation process that is more complicated with multiple configurations and selections required.
Support with BackupAssist is as simple as calling the phone number on distributor Zen Software' website and connecting directly to their support team during their respective business hours. Zen aim to answer calls within three rings and all emails within 2 hours although most are answered far quicker. This support is unlimited and included in the price of the product provided it has valid upgrade protection. No tiers, fees or limits.
Acronis support includes live chat, but phone and email support requires registration and online forms, and there are limits and costs for the email and phone support services.
Product Pricing
Defining your backup requirements and identifying the products that meet those requirements, narrows down the list of possible backup solutions. Price then becomes an important factor.
The tables below show the price per license for Acronis products and add-ons.

The tables below show the price per license for BackupAssist products and add-ons (exclusive of VAT and correct a the time of writing).

Product Trial
When selecting backup software, installing an evaluation version and testing the software is a critical step. This section compares the trial versions of BackupAssist and Acronis.

Product Support
Good after sales support is important. If there are problems running backups and performing restores and recoveries, you need to know you have accessible, expert support.
This table shows the types of support provided by BackupAssist and Acronis.
Application data BackupAssist Acronis

Remote Management
With backup administrators in one location and servers in other location, it's important to have a backup solution that allows you to remotely administer your backup software.
This table shows key remote administration features and the support provided.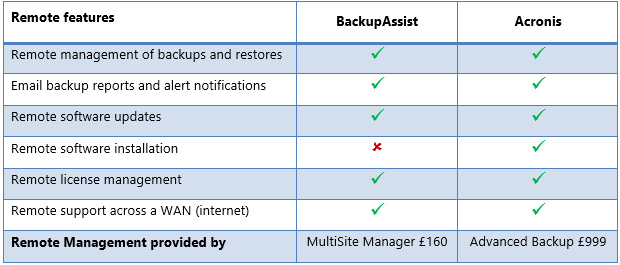 Backups
This section looks at a selection of important backup requirements for servers and server applications.
BackupAssist is a dedicated Windows Server and Windows application solution. This allows BackupAssist to focus on creating a suite of feature-rich solutions for businesses that use Microsoft servers for their data, mail, databases and virtual environments.
The following table compares some key backup options available in BackupAssist and Acronis.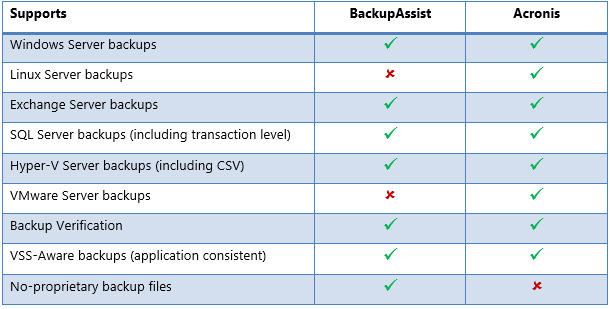 Restore
Backup software needs to be able to carry out a range of restore functions for databases and virtual environments. This table lists the different types of Windows server application restores supported.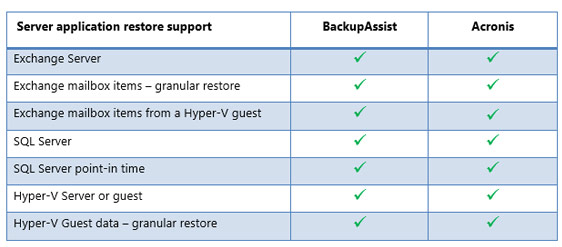 NOTE: BackupAssist Hyper-V Granular Restore can restore files from inside a Hyper-V. If you have the Exchange Granular Restore Add-on, you can also restore individual mail items from an Exchange Server running on a Hype-V guest.
For more information on BackupAssist, why not visit our YouTube channel where you'll find an in-depth product tour along with a range of other shorter feature highlights.
If you found this article useful, please feel free to share it with a colleague!
Special thanks to the team at Cortex IT for the ORIGINAL materials used in this POST.