22 Aug

MDaemon v13 available 5th September 2012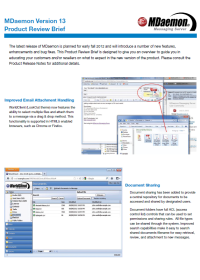 The newest version of MDaemon will be available for download on Wednesday, September 5th.
The new release sees a number of new features to help IT administrators and end users alike, such as:
Message ticketing support
Consolidated Mobile Device Management (MDM) interface and ActiveSync policies
Hijacked account detection
Document sharing, drag & drop attachments and custom logos in WorldClient
Traffic compression to improve Outlook Connector performance
View the PDF briefing document here for more information.
As soon as it's available you'll be able to download the latest version of the installer from our web site here.
Check your license key

Customers with a current license will receive the latest update of MDaemon at no cost. To ensure your license is current, visit the software license renewal and upgrade page.
LIMITED OFFER – 50% off expired renewals until September 30th!
Has your current MDaemon license EXPIRED?  Between the 5th and 30th September 2012, expired MDaemon and Outlook Connector keys can be renewed at half the usual price. So if you're still running an older version of MDaemon and have let the upgrade cover lapse, you may wish to take this opportunity to get up to date…and don't forget that having a key with active upgrade cover also covers you for free technical support from ourselves.
To take advantage of this offer, please use the following voucher:
Discount voucher code: N4LA8VKF
(valid between 5th and 30th September 2012)
As always, if you've got any questions about any aspect of the product or promotion please feel free to get in touch.
Related articles