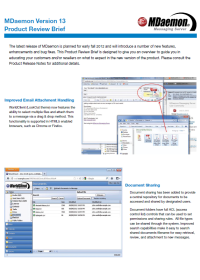 The newest version of MDaemon will be available for download on
Wednesday, September 5th.
The new release sees a number of new features to help IT administrators and end users alike, such as:
Message ticketing support
Consolidated Mobile Device Management (MDM) interface and ActiveSync policies
Hijacked account detection
Document sharing, drag & drop attachments and custom logos in WorldClient
Traffic compression to improve Outlook Connector performance
View the PDF briefing document
here
for more information. As soon as it's available you'll be able to download the latest version of the installer from our web site
here.