25 Mar

MDaemon magazine review: Dator Magazine – MDaemon wins FIRST PLACE in recent comparison with Exchange, Sendmail, Quickmail, Novell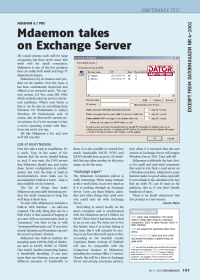 A leading Swedish computer magazine called "Dator Magazin" conducted comparison tests between Microsoft Exchange server 2000, Red Hat Linux 7.3 with Sendmail, Quickmail Pro Server, Novell Netmail XE 3.1, Lotus/Domino 6, and MDaemon 6.7. Quoted from the article…"The winner is, not unexpectedly, MDaemon. A software that has almost all one can wish for and at a very attractive price. The clincher is that this is a solution to grow with, is actually true in this case".
Upstream Software (http://www.upstream.se/) are the exclusive distributor for Alt-N's products in Sweden, Denmark, Finland, and Norway.