15 Jul

MailStore 13.0 – Modern Authentication support for Office 365 and Google Gsuite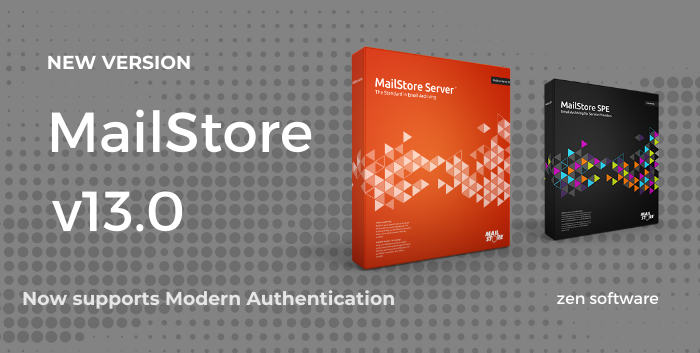 MailStore version 13.0 is now live and includes important new security features for archiving cloud services. This release focuses on the following features:
Improved usability of MailStore with cloud services
Support for Modern Authentication (Office 365 and Google Gsuite)
Increased security
Improved user experience
Why is the move to Modern Authentication so important?
MailStore currently utilises what Microsoft now term legacy authentication to both verify if MailStore users credentials match those within Office 365 and also to authenticate archive profiles when they run. In some cases App Passwords are also used if a Microsoft account is configured to use Multi-Factor Authentication.
MailStore version 13 now fully supports Modern Authentication methods for users verification which uses OAuth 2.0. MailStore will request access tokens from Azure Active Directory rather than using username and password to connect. This also enables multi-factor authentication for all accounts and conditional access policies can be applied as well as other security features within Office 365.
To give some history on these changes, back in March 2018, Microsoft announced that it would require Modern Authentication for all Office 365 services including Exchange Online and that this would be enforced from October 2020.
Although the COVID pandemic looks to have delayed this deadline for existing tenants until the second half of 2020  this change is an important one and so we would strongly recommend that you plan to switch to using Modern Authentication in MailStore as soon as possible to prevent any service interruption. Our recommendation is to do so before October 2020.
For detailed information about what's new in this new version of MailStore, please go here.