05 Feb

MailStore 12.1 – Better user experience, up to 20% faster and added security improvements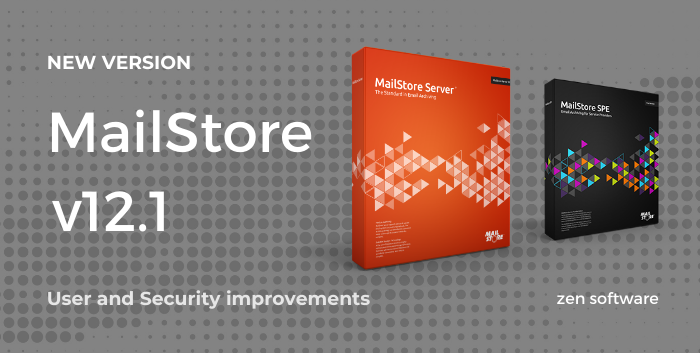 MailStore version 12.1 is now live and includes some great new features for new users of the software as well as improvements for end users.
End users icons have been modernised to fit in with current versions of Outlook; a new print function added; the ability to export and flatten the folder structure of mailbox data if required; several security improvements and fixes; and overall performance of mailbox archiving has also been increased by up to 20%!
Here is a full rundown of the changes:
Outlook Add-in: Update of icon set to better integrate into the look and feel of recent Outlook versions

The redesign of the icons aligns the MailStore Outlook-Add-in with the look-and-feel of recent Outlook versions therefore integrating better into Outlook's user interface. It also makes the MailStore Add-in look more modern.
Archive Performance Boost
The number of calls to the database has been reduced significantly by caching the archive store list in memory. This leads to a significant performance improvement during mailbox archiving.
From testing the developers have seen the performance of mailbox archiving with version 12.1 is up to 20% faster than with previous versions.
Removed Support for Older Windows O/S
MailStore can no longer be installed on Windows Vista , Windows Server 2008 Standard or Windows Small Business Server 2008 as these operating systems are  no longer supported by Microsoft. Installation is actively prohibited to prevent involuntary updates of older MailStore installations.
Any Installations of MailStore Server currently running on these operating systems should be migrated to a new server running a supported version of Windows.
Please contact support if you need help with this.
Additionally, Windows Mail is also no longer supported by MailStore
Improved setup by linking to implementation guides within MailStore Server
As you navigate the Exchange archiving wizard, you can now find a link that  lists all the Exchange Implementation Guides. These guides give detailed explanations on how to archive the various Exchange Server versions with MailStore. This also includes the help guide for Office 365.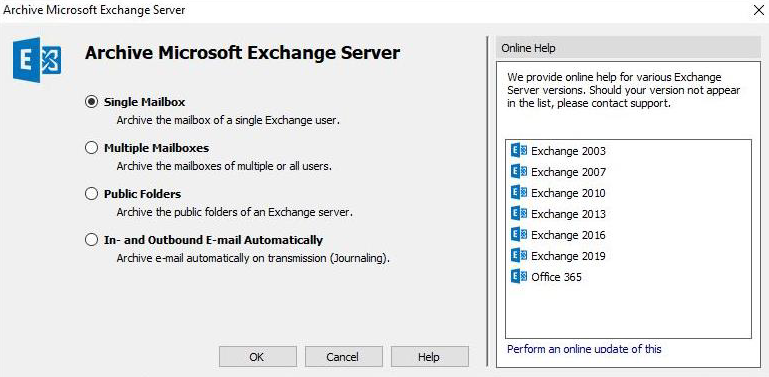 Export profiles now allow retaining the archive folder structure in the destination to be optional
With this improved feature, emails can be exported into a specific, user-defined folder without the creation of an archive folder structure. In certain scenarios, this makes the handling of exported emails easier. In addition, this means restrictions on the export destination (e.g. the limitations to the export target's maximum folder depth) can be avoided.
Orphaned archives viable on the Privileges page
With this improved feature, orphaned archives are now shown in the "Users and Archives" – "Archives and Privileges Overview" section. This helps the administrator to find archives which do not have a user associated to them anymore.
Note: this is especially helpful to MSPs utilizing MailStore SPE because they must pay for these orphaned archives separately.
Other Improvements
Outlook Add-in: "Print Message" button added, which allows to quickly print a message on the default printer.
Audit Log: Copy to clipboard now includes event details.
SMTP Settings: Support for multiple recipients (comma separated email addresses) added.
Thunderbird Support: MailStore warns users that archiving may be incomplete due to IMAP-backed Thunderbird profile.
jQuery security update to close potential XSS vulnerability.
Quick export of saved search results via context menu added.
Existing customers can download MailStore version 12.1 here