23 Sep

Purchase two NEW MailStore licences during October and November and receive a £50 Amazon voucher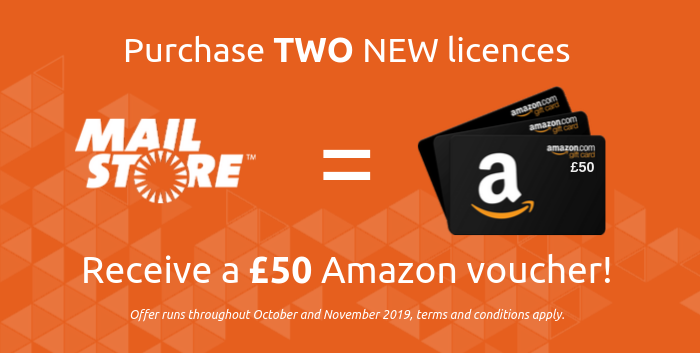 Starting 1st October, we're giving you yet another great reason to speak to your customers about the many benefits of email archiving.
Simply resell two or more NEW MailStore licences during October and November and provided you're among the first 25 resellers to do so, we'll send you a £50 Amazon voucher.
Here are a couple of ideas for potential sales opportunities…
Are your customers using Office 365?
A common misconception among Office 365 users is that they no longer need to be concerned about email backups and archiving because their email is hosted in the cloud by Microsoft.
However, customers really need to be aware that services of this type use a shared responsibility model when it comes to customer data. While Microsoft's hosting infrastructure certainly protects against data loss due to systemic failures, there is still a burden on the customer to protect against loss of data due to accidental or malicious user actions and administrational errors.
This is where MailStore can help – by maintaining a complete, secure archive of all emails passing through Office 365, and by controlling and auditing access to the archive, the company can protect itself against user activities that could cause the unrecoverable loss of important emails – a problem which may go unnoticed until it's too late.
Do you have Exchange customers with overloaded mailboxes?
Archiving is a great way to breathe new life into existing Exchange servers struggling under the weight of those massive mailboxes that senior management are prone to having – and the beauty of using MailStore is that it doesn't limit what's available to the user or lock it away behind an administrative barrier.
Additionally,  some Exchange customers will now be approaching the end of support date for Exchange 2010.  Many of them may be looking to switch to a hosted service such as Office 365 and consequently will probably have a migration headache looming ahead of them.
Migrating a massive Exchange database can be real chore so it's worth keeping in mind that archiving that data into MailStore is a great way to slim down the database size ahead of a migration allowing them to only move across the more recent emails whilst still providing users with quick and easy access to the older emails.
Upcoming webinars
To help make sure you're up to speed on how to make the most of the promo and to talk to your customers with confidence, MailStore are running a couple of one-off webinar sessions…
Webinar 1:  30-minute sales refresher
Ideal for members of your sales team who are either new to MailStore or would benefit from a quick refresher.
In this non-technical session, the following topics will be covered:
The problems archiving solves for your clients
The main benefits of MailStore
How to pitch MailStore to your clients
Typical objections
Who is buying archiving?
Q&A
Register here:
Thursday Sep 26, 2019 10:30 AM BST
https://attendee.gotowebinar.com/register/3340304632216208395
 Webinar 2: 60-minute MCAS 'bootcamp'
The quickest and most enjoyable way to become an official MailStore Certified Archiving Specialist (MCAS). If you've been thinking about becoming certified but have struggled to find the time, this may be for you.
In this special one-off interactive session, a MailStore technical expert will provide you with all the in-depth technical knowledge you need to get certified in a 60-minute webinar with Q&A.
Registration here:
Thursday Oct 17, 2019 11:00 AM BST
https://attendee.gotowebinar.com/register/4476665292683518219
Terms and conditions of promotion
This promotion is only available to members of Zen Software's Partner Programme;
Only NEW MailStore licence sales count;
Licence keys must be resold and activated during October and November 2019 to be applicable;
Offer is limited to one voucher per Partner and to the first 25 Partners;
Amazon vouchers will be sent out via email in the first week of December.