30 Mar

Are You An Email Hoarder?
Keeping more email than is actually needed is a habit that most people fall in to at some stage. But make no mistake, it is a problem. And it's not one to be ignored.
The main issue with keeping large volumes of email is the affect it has on your mail server and therefore the knock-on effect it has on Outlook (assuming that's what you're using!).
With all of the additional load for your hardware to cope with, at best it'll become sluggish and unresponsive – at worst, it'll just grind to a halt altogether.
Could you have hoarding tendencies?
Pooling our extensive knowledge and expertise, we've created this highly scientific and 100% accurate four point checklist to help identify whether you too have the affliction.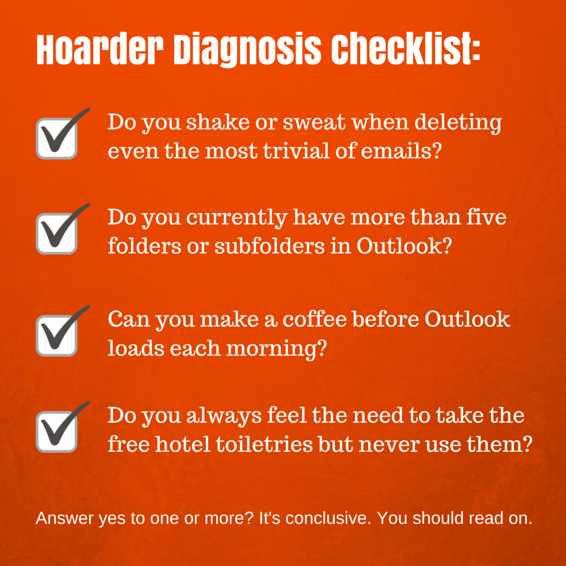 Say no to Outlook's built-in archiving 
Your typical hoarder will deal with the problem in one of a number of ways. Some will opt for the 'sporadic cull', usually following an angry call from IT support or perhaps a complete Outlook failure.
Others will try to get by with what Mr. Gates has provided unto thee and prolong the inevitable by using Outlook's built-in archiving feature. Perfectly logical and in the short term, it solves the issue.
The problem comes when you take into account that they're:
Susceptible to corruption – just not reliable
Only available on the machine they're attached to
Easily lost or destroyed
Often not backed up because they're on a local machine
Only available on one machine
There is however, a viable alternative and you'll be pleased to hear it won't even require you to change those hoarding ways..
'Proper' email archiving 
The job of a true archiving solution is fairly simple in my opinion, it should "solve the issue of overloaded mailboxes, automatically maintaining their size, but without limiting how much email is available to users".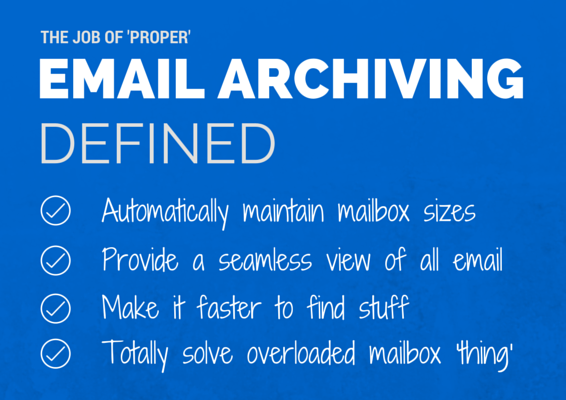 Shameless plug alert! MailStore is just one of the many 'proper' email archiving solutions that tick this box.
Four steps to take your mailboxes from chaos to completely under control. 
1) 15 minute install at your office 
INSTALLS ON YOUR MAIL SERVER OR A DEDICATED MACHINE
MailStore is happy on a server or desktop machine running Windows 7 or higher. Archived email is stored on the server or an external storage such as a NAS device.
2) Let archiving commence…
WE SHALL NOT LEAVE A GOOD EMAIL BEHIND!
After setup, any new email traffic is archived instantly. Historic email is then uploaded, as well as any Outlook archives (PST files). All archived email is de-duplicated and attachments are compressed to save on storage.
3) Go on, search for an email
Finding MESSAGES in MAILSTORE IS FAST.SCARILY FAST.
Search or browse your archive straight from Outlook. It'll be quicker than ever to locate any of your email (even if it goes back years!). It also searches for keywords in common attachment types such as PDF's, Word and Excel.
4) Finally…trim those mailboxes! 
It's time to set 'n' forget with auto mailbox pruning
Because every email is archived and accessible from Outlook anyway, so how much you keep in your mailbox is just personal preference. We usually recommend MailStore deletes messages older than 12 months initially.
So how much will it cost?
If you choose to archive with the MailStore Server software, licences are purchased on a per user basis (minimum of 5). Each new licence includes 12 month's entitlement to new releases and free technical support.
– View the latest MailStore pricing on our web site.
(schools and charities are eligible for further discount)
Ready to get help for those hoarding ways?
You can download and trial 'proper' email archiving solution MailStore Server without any impact to your live server to begin with.
Only when you're completely ready, does MailStore need to begin actually pruning mailboxes. Installing the free 30-day trial will give you first-hand experience of the Outlook integration, the web interface and let you test the speed of message searching for example.
– Download the free 30-day trial of MailStore today
– See MailStore installed on Microsoft Exchange (YouTube)
If you're concerned about your out of control hoarding ways, help is at hand so get in touch!