19 Jan

Updated MDaemon SSL Certificate Support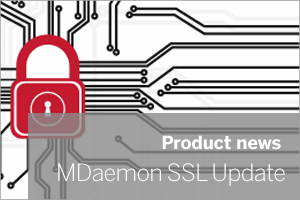 You may have picked up in the IT press recently that we're starting to see an industry-wide movement to a new, and importantly more secure, standard of SSL certificate. 
Alt-N Technologies, developer of the Exchange alternative MDaemon Messaging Server have just announced they too are following this trend and stating they'll be replacing all end-point and intermediate server certificates with those based on the new SHA-2 algorithm.
Important note: Alt-N will be moving to SHA-2 SSL certificates on January 20, 2015.
What does this mean for MDaemon customers?
MDaemon uses an encrypted SSL connection to regularly call home to the licencing servers at ALT-N in order to verify the licence details.
MDaemon uses the SSL ciphers provided by Windows, so in order to support the latest SHA-2 SSL certificate, you'll need to be on Server 2008 / Windows 7 or later, as these will include the required support.
Windows XP or Server 2003 users
If you or your customers are using Windows XP or Server 2003 with the latest updates, you should be fine too, however if you're not automatically updating your O/S, you can download the SSL cipher update patch from Microsoft that will provide you with it.
Security Update for Windows XP (KB2868626)
Security Update for Windows Server 2003 (KB2868626)
If you want to check that you have the cipher support installed visit this alt-n text page.
You should receive an XML report back if the cipher is installed and working…

As always, if you have any MDaemon-related questions feel free to drop us a note in the comments section or get in touch via the usual methods!