06 Mar

BackupAssist MultiSite Manager Beta – Testers wanted!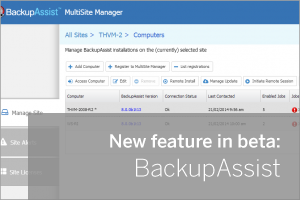 BackupAssist's new product BackupAssist MultiSite Manager is now available for download as a beta, and the Australian developers could really do with your help to test it!
The MultiSite Manager introduces a suite of new, powerful and advanced features to simplify the remote management of your BackupAssist installations.
More information and the beta sign-up link available below:-
http://www.backupassist.com/BackupAssist/BackupAssist_MultiSite_Manager/v8_beta-download.html
Also discussed on Zen Partner Talk forum here:-
http://www.linkedin.com/groups?home=&gid=7472481