12 Nov

Outlook 2012 and 2013 Crashes Since Microsoft Update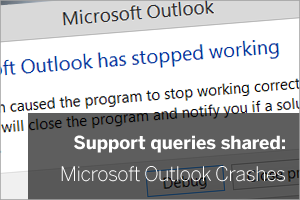 I've recently heard from several customers who've been experiencing Microsoft Outlook becoming unstable when viewing HTML based emails.
The issue started around 11th November and after a little digging it quickly became clear it's a known Microsoft issue.
The Problem
As soon as a user clicks on an HTML email in Outlook and the preview window tries to open the message, Outlook appears to crash, immediately shutting down.
Upon restarting, the user can continue to view other messages but if they go back and try that same HTML message again, the same thing happens and Outlook just crashes out.
The problem appears to only affect Outlook 2010 and Outlook 2013 builds at this stage.
The Fix
I should point out at this stage – this isn't anything specific to our products, it's due to a recent Microsoft update KB3097877 that has resulted in a change to how Microsoft Outlook is handling some HTML encoded messages
Our advice is to simple – remove that recent update in Windows update manager and you should find the issue has been resolved.
For full details and official explanation, you can read the Microsoft Announcement here.