15 Oct

How to reclaim hard disk space by moving BackupAssist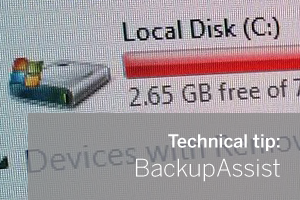 If you've been using BackupAssist for a long time, and the drive you installed it on wasn't the largest to begin with, you might be finding it's starting to outgrow it.
Your BackupAssist installation folder will become larger over time, primarily because it stores reports and diagnostic files in the program data folder. Why not just delete old reports? Well you could, and that will help as a quick fix but it will only stop the problem temporarily.
The developers are aware that some more options would be useful here to better manage this, but in the meantime, here's a simple workaround you can deploy to reclaim that space by moving BackupAssist to a different drive which takes up most of the space.
How to move the location of your BackupAssist installation
By default, BackupAssist stores all of the program data under:
"C:\ProgramData\BackupAssist v7"
If this folder is very large and you want to move it to a different drive, you can do the following:
Step 1) Stop console and service, make sure no jobs are running
Step 2) Move the whole "C:\ProgramData\BackupAssist v7" folder to a new location for example "D:\backupassistdata\"
Step 3) Open Regedit and add a new string value in the registry for the desired data path:
HKLM\SOFTWARE\Cortex I.T\BackupAssist\v7\ DataPath="d:\backupassistdata\"
Step 4) Start BackupAssist to use the new location.
For a more detailed explanation have a look at the following Knowledgebase article…
http://www.zensoftware.co.uk/kb/KnowledgebaseArticle10470.aspx
– – – – – – – – – – – – – – – – – – – – – – – – – – – – – – – – – – – – – – – – – – – – – – – – – – – – – – – –

       Try any of our software completely free for 30-days:
MDaemon email server  |   BackupAssist   |   MailStore email archiver