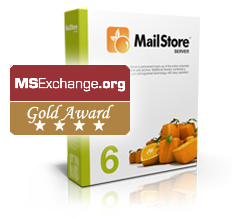 Exciting stuff! One of the
leading Exchange resource sites
today published a glowing review of MailStore giving it the highest category of praise and their coveted Gold award.
>> READ THE FULL REVIEW HERE <<
The author
J. Peter Bruzzes
, who's an
MVP
and director of
Exclusively Exchange
gave a summary of the install process in his test lab environment. Not that we had any doubts, but we were extremely pleased to read his subsequent feedback which included quotes such as
"I liked MailStore Server. I liked it a lot because
it was incredibly easy-to-use, extremely flexible, reasonably priced and well supported"
.