05 Oct

NEW: Appointment Booking & Calendar Publishing added in MDaemon 23.5

For any business that regularly needs to arrange appointments, having a simple process that requires little time to manage is essential. Whether you run a barber shop, need to run online product demonstrations, or simply want to give your staff an easy way for them to book some time with you – having an easy way to book time slots without the usual back and forth of emails is a god send.

Appointment Booking & Calendar Publishing is now included with MDaemon.

With this feature, users can manage and publish their available dates and times, then create and share a unique URL where others can choose and book available time slot appointments. Once an appointment time has been selected, MDaemon will notify the calendar owner of the proposed meeting, where this user can then accept, modify, or reject the meeting request.

Note: Appointment scheduling is currently only available in the Pro theme of MDaemon Webmail.

To configure Appointment scheduling..

Step 1 Log into Webmail and navigate to your calendar: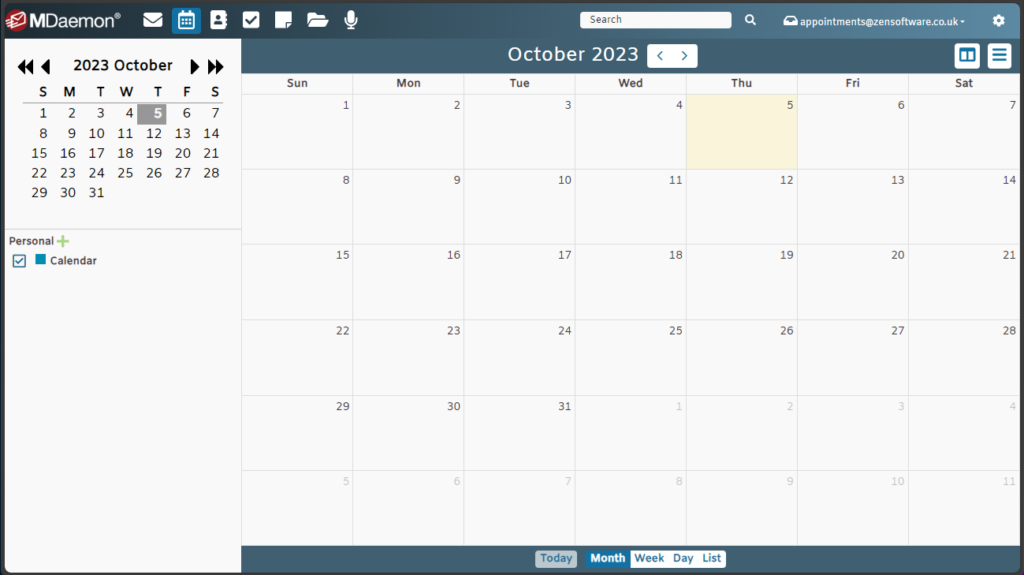 Step 2 In the top right corner select the thee line icon to show calendar options, where you can select Publish Schedule: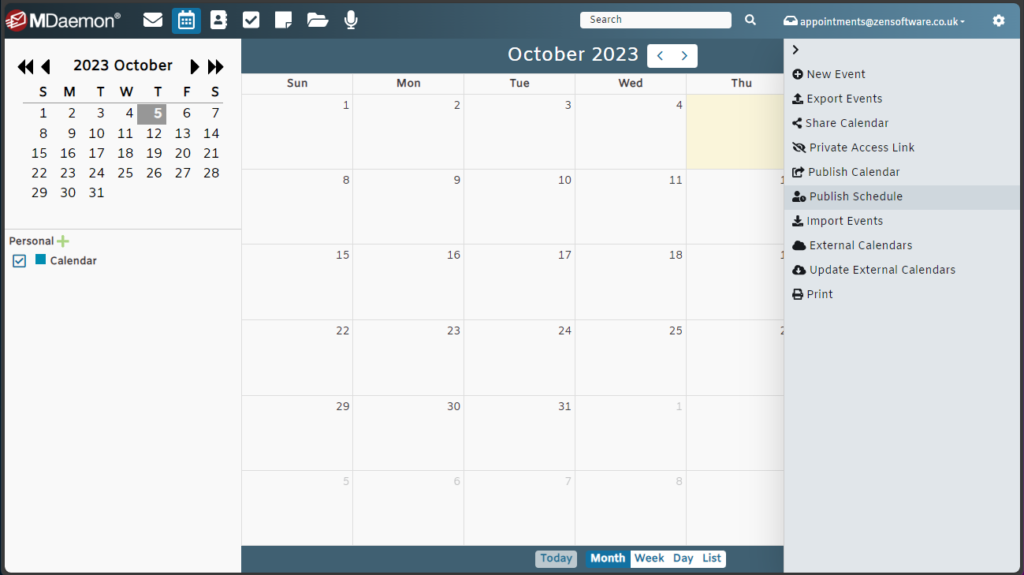 Step 3 This will open the schedule where you can edit the details.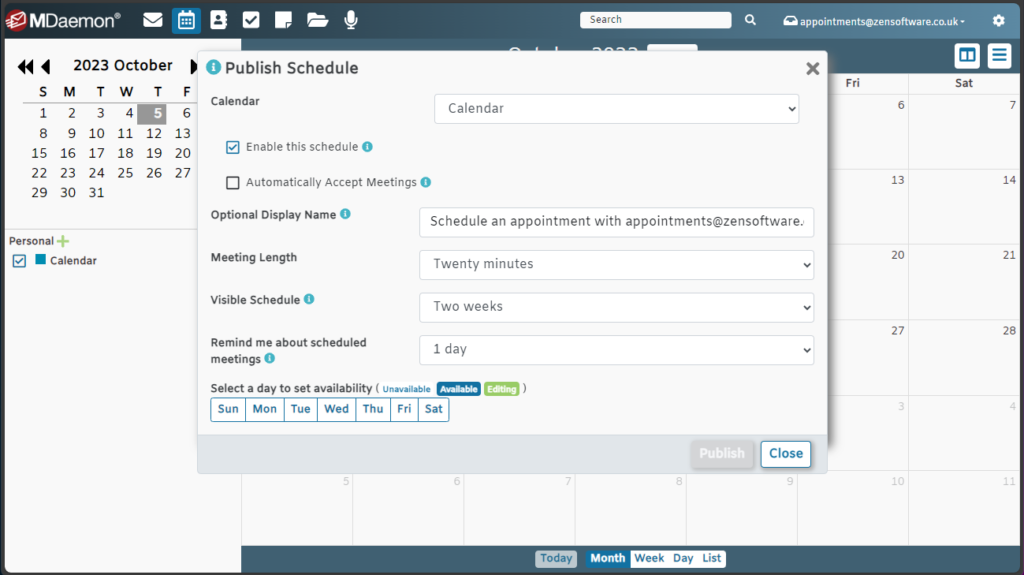 Choose the personal calendar to link the appointments to.
Choose whether this schedule is currently enabled or not ( for example you can disable it if you are on leave).
Choose whether you wish all appointments to be automatically accepted and the invite to record the attendant to be 'Busy' or whether to default to a 'Tentative' state.
Display name: This is the text that will be shown on the resulting public webpage, so feel free to customise this
Meeting length:  Is the time slots allocation for all available meetings
Visible Schedule: Allows you to restrict appointment slots to only show for the  next few weeks
Remind me about scheduled meetings: Receive an email notification X days before the appointment
Select a day to set availability:
This setting is where you define the times of each day that you are available for appointment slots. MDaemon will create as many slots within these availability windows that fit based on the meeting length you have chosen:
Step 4 You can create separate availability for each day of the week and if required copy this availability to other days to speed up this process: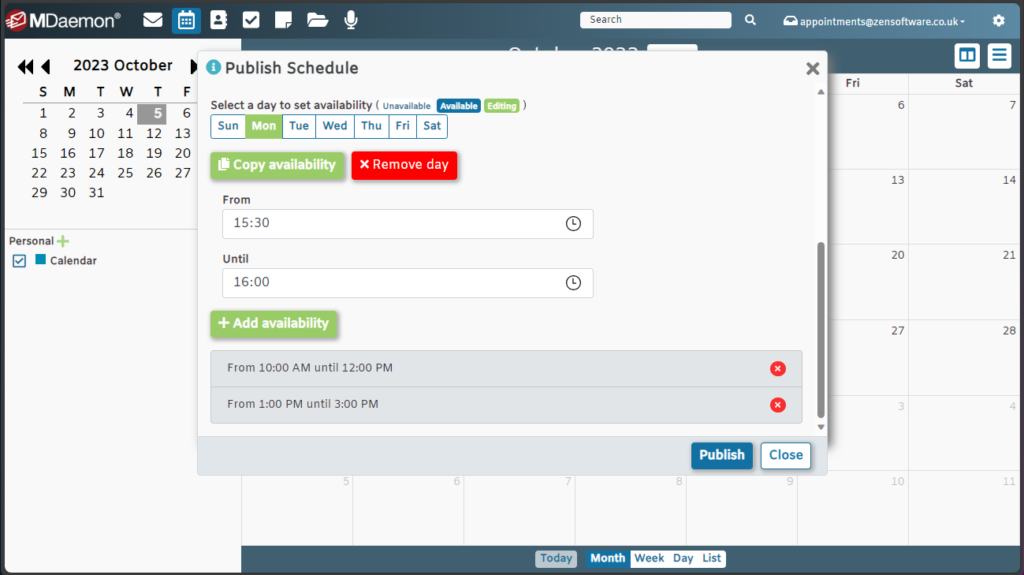 Step 5 Once you have created the availability (note this can be edited at a later time if required), click on the Publish button to go to the final step: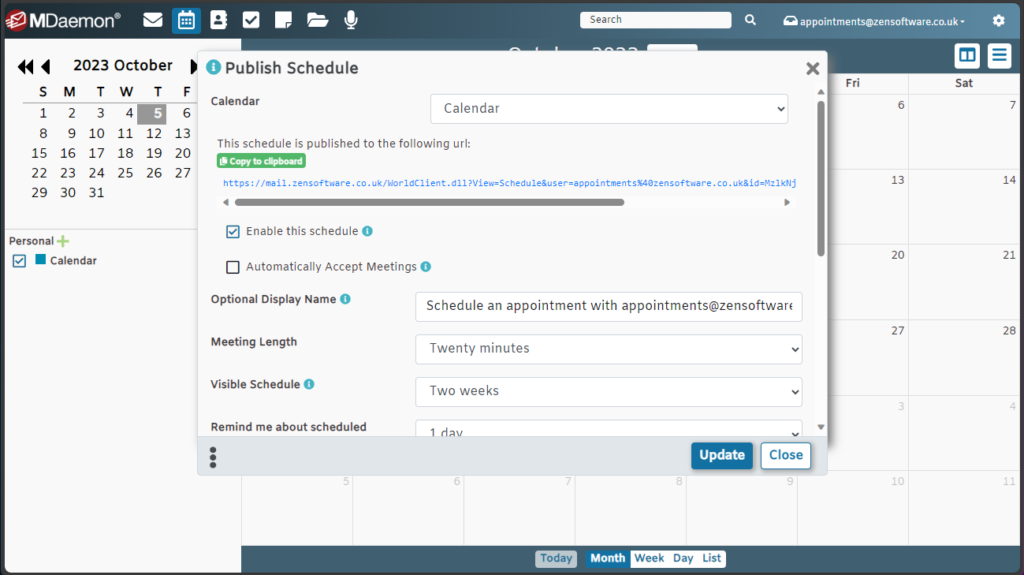 Step 6 This will create a unique URL that you can now copy and publish as you wish, to to allow people to book appointments: