12 Oct

Recommended Podcast: Why MSP's Need To Embrace Marketing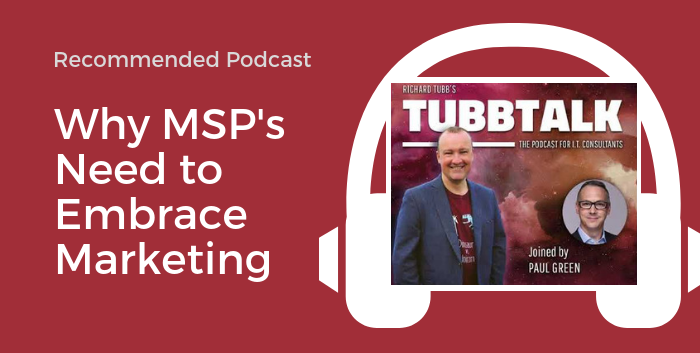 IT support companies are generally pretty rubbish at marketing.
"That's a little harsh" I hear you say?
Of course, there are exceptions. But I speak to lots of MSP business owners in my role here at Zen and I find it's often something I end up joking about with partners, and that they're quite open to admit.
In a fascinating interview for TubbTalk, The Podcast for IT Consultants, MSP marketing expert Paul Green shares some unique insight on why he thinks this is the case, and what can be done about it.
Does loyalty breed complacency?
Paul explains he believes the reasons MSP's are particularly prone to neglecting marketing is contributed to by the unique characteristics of the MSP industry.
He and IT business growth consultant Richard Tubb discuss that unlike in many industries, MSP clients are incredibly loyal, which mean that it's common for relationships with clients to run in excess of 10 years.
Sales processes are long, and in some cases, it can be a pain for clients to move between providers, which can breed a form of complacency (or 'inertia loyalty') as both client and MSP are quite happy with the status quo.
Upselling, the benefits of writing a book and how MSP Marketing Edge can help.
This episode's a terrific listen, packed with ideas and actionable advice you can use to make more money right now and one I highly recommend (so much so, we're the official sponsor).
Listen to TubbTalk – The Podcast for IT Consultants
Available via iTunes, Stitcher, SoundCloud, YouTube and just about all other podcast platforms.
Direct episode link:
"Why MSPs Need to Embrace Marketing – TubbTalk #39"
Episode archive:
Listen to or download any of episode of the TubbTalk Podcast
Special MailStore SPE offer for TubbTalk listeners
MailStore, the email archiving software for Exchange, Office365, and all other mail platforms is the official sponsor of this episode of TubbTalk.
Check out their special offer for listeners: